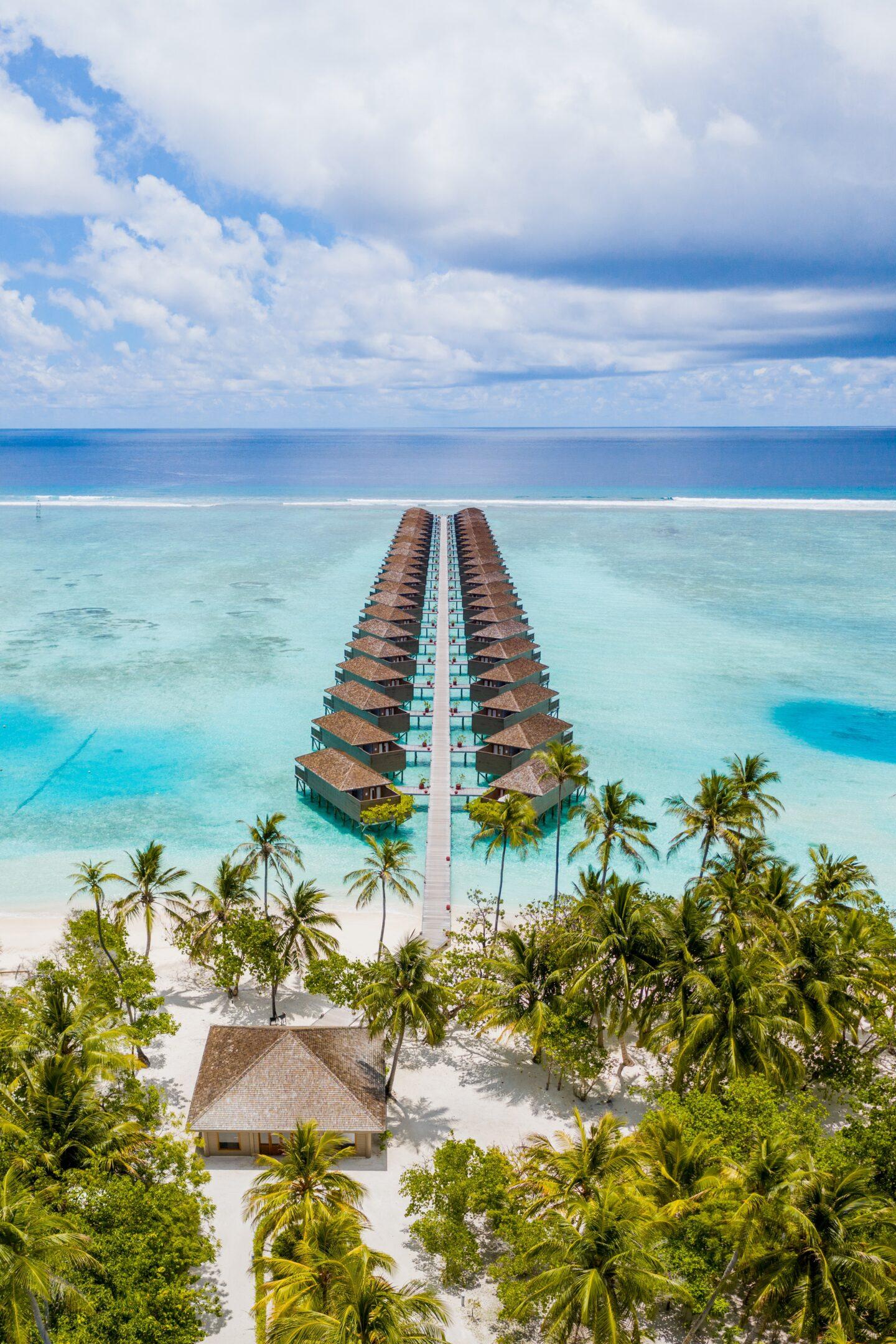 This post is part of our series on "All you need to know about the Maldives from Budget to Luxury". Feel free to start with the first post, here, and then work your way up to this one so you can get the most of this guide.
The Maldives is a tropical paradise known for its crystal clear waters, white sandy beaches, and stunningly beautiful hotels and resorts.
However, this paradise comes at a cost, and many travellers find that the cost of accommodation in the Maldives can be quite high.
But, there are ways to find cheap accommodation in the Maldives if you know where to look.
As said, when you think about the Maldives you think of high end exotic and expensive resorts and hotels, featuring everything from water villas to underwater restaurants.
And although that's true for the most part, if you know where to look, forgo a few creature comforts and luxuries, then finding a budget accommodation that doesn't take anything away from the experience, becomes more realistic and we'll show you how to do it.
In a nutshell, finding budget accommodation in the Maldives is possible by considering options such as traveling during the off-season, staying in a guesthouse or budget hotel, renting a private vacation rental, looking for deals and discounts, considering a liveaboard experience, and taking a package deal.
As always, let's go into a bit more detail below.
1. The off-season
First, consider traveling during the off-season.
The Maldives has two main seasons: the dry season and the wet season. The dry season, which runs from November to April, is the most popular time to visit the Maldives and therefore, the most expensive.
The wet season, which runs from May to October, is less popular and therefore, cheaper.
If you're able to travel during the wet season, you'll find that prices for accommodation are much lower. Additionally, during the off-season you can also find great deals on flights and activities in the Maldives.
Let's take a look on Booking.com for a nice place to compare.
We'll choose something that comes to mind when most people think of Maldives. Not the most crazy expensive one but also not a hostel room, somewhere in the middle. These are the results.
This accommodation, for 17 nights in the dry season is a whooping $10,728.

While in the wet season the same accommodation, for the same amount of nights is $2,482!

A difference of $8246 is impressive and your wallet will surely be grateful. While a vacation in the Maldives for around $2000 is surely a good find, we can do even better, so lets continue with:
2. Budget hotels for a priceless experience
Another option is to consider staying in a guesthouse or budget hotel.
While the Maldives is known for its luxurious hotels and resorts, there are also a number of budget-friendly options available.
Guesthouses and budget hotels typically offer simple, clean accommodation at a fraction of the cost of a resort. Many of these budget options are located on local islands, which can provide a unique cultural experience and a chance to see the real Maldives.
These local islands are often less developed and more traditional, giving you a chance to experience the Maldivian way of life and culture.
You can also consider staying in a private vacation rental. There are many villas, apartments, and houses available for rent in the Maldives.
These rentals can be a great way to save money on accommodation as they often come with a kitchen, allowing you to cook your own meals, rather than eating out at expensive restaurants.
Additionally, vacation rentals can also provide more space and privacy compared to a hotel room. This can be especially beneficial for families or groups of friends traveling together.
While the previous example looks quite nice, we are here to talk about budget options, so lets take another look on Booking.com.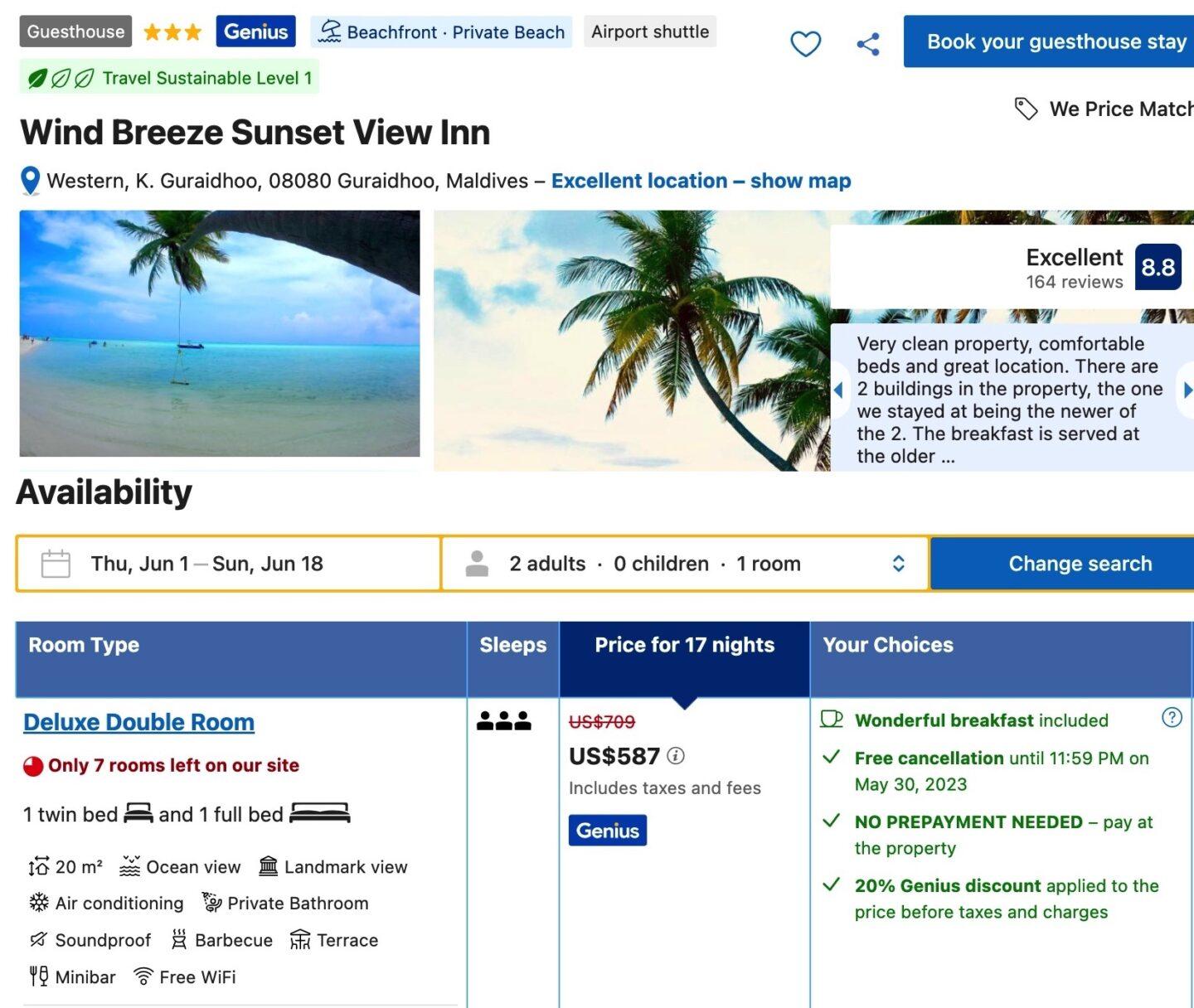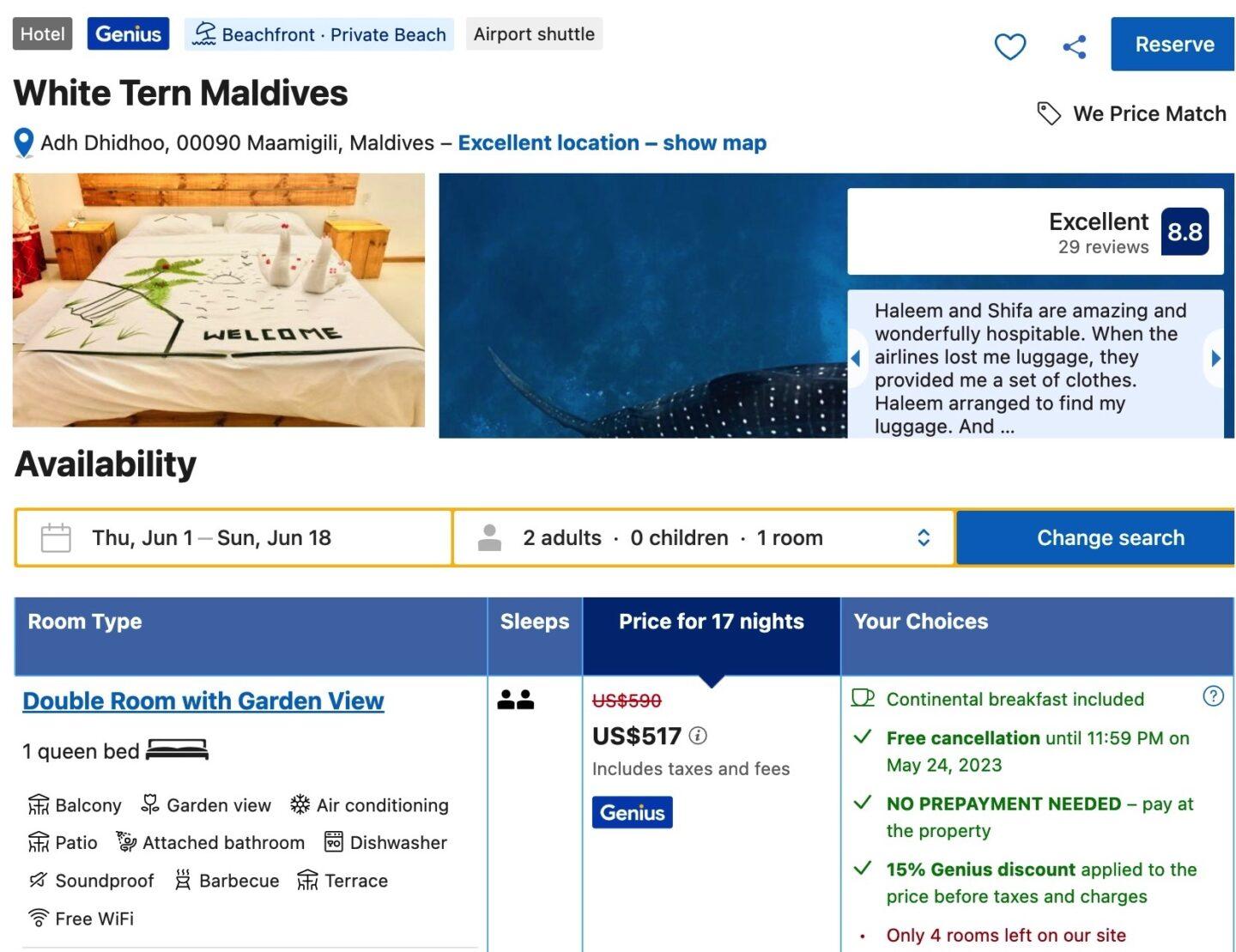 3. Deals and discounts
Another way to find cheap accommodation in the Maldives is to look for deals and discounts.
Many resorts and hotels offer discounts and special deals throughout the year, so it's worth checking for promotions and packages.
Additionally, many travel agents and online booking sites offer deals on Maldives accommodation, so it's worth checking with them as well.
Be sure to sign up for email newsletters, follow social media accounts, and check out review websites to find the best deals.
Lastly, you can also consider a package deal. Many tour operators offer package deals that include flights, accommodation, and activities such as diving and snorkeling.
These package deals can often save you a significant amount of money, especially if you're planning to do a lot of activities during your stay.
Additionally, package deals can also save you time by allowing you to book everything in one place, instead of searching for different options separately.
For example: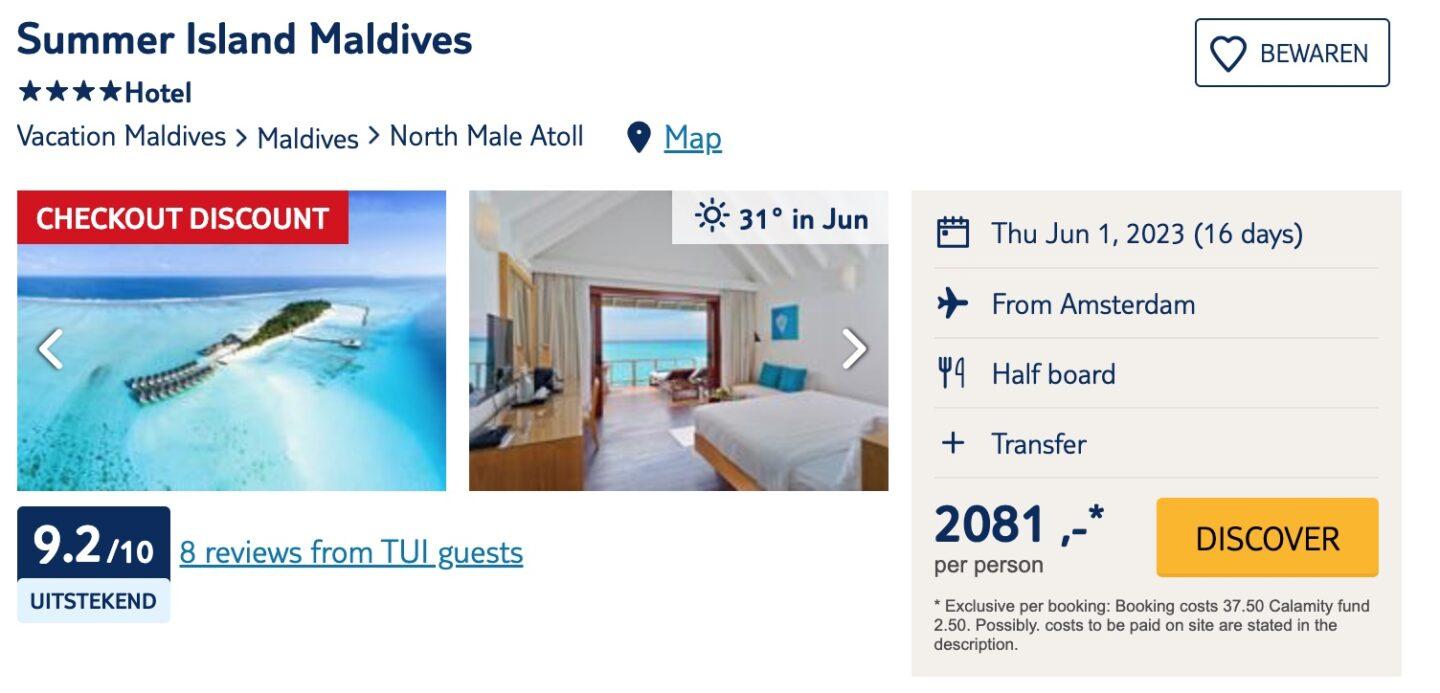 This deal offers flight and accommodation to this amazing place. We personally took this offer and it was amazing. Flights were via Emirates with a stopover in Dubai, and an amazing bungalow for 16 nights for €2081. A good option to take in consideration.
4. Think outside the box
It's also worth considering a liveaboard experience. A liveaboard is a boat or ship that you can stay on while exploring the Maldives.
In addition to diving and snorkeling, liveaboards also offer a variety of other activities such as fishing, island hopping, and water sports.
You'll have the opportunity to explore the Maldives from a different perspective, experiencing the beauty of the islands and the ocean in a way that you wouldn't get from hotels or resorts. You'll also have the chance to see the Maldives from a different angle, you will have the opportunity to visit remote islands and atolls that are only accessible by boat.
Liveaboards come in different shapes and sizes, and can vary in terms of amenities and services.
Some liveaboards may have air-conditioned cabins, on-board dining, and entertainment options, while others may be more basic.
For this we wholeheartedly recommend taking a look at Liveaboard.com. They offer so many high quality options to pick from, with curated results, stretching from the budget options to higher end packages for the aficionados.
Regardless of the type of liveaboard you choose, you can be sure of an experience of a lifetime and a unique way to explore the Maldives.
Conclusion
In conclusion, while the Maldives may be known for its luxurious hotels and resorts, there are ways to find cheap accommodation in the Maldives if you know where to look.
It's important to keep in mind that the Maldives is a unique destination and prices may vary depending on the location, facilities, and services offered.
It's also worth noting that while the Maldives is a popular honeymoon destination, it's also a great destination for families, groups of friends, and solo travellers.
Whether you're looking for a romantic getaway or an adventure-filled holiday, there are plenty of affordable options available to suit your needs.
In summary, finding cheap accommodation in the Maldives is possible with a bit of research and planning, so start working on your dream vacation.
For more travel content and guides on anything from hidden spots to amazing restaurants, follow us on Instagram and Tiktok!
See you soon !