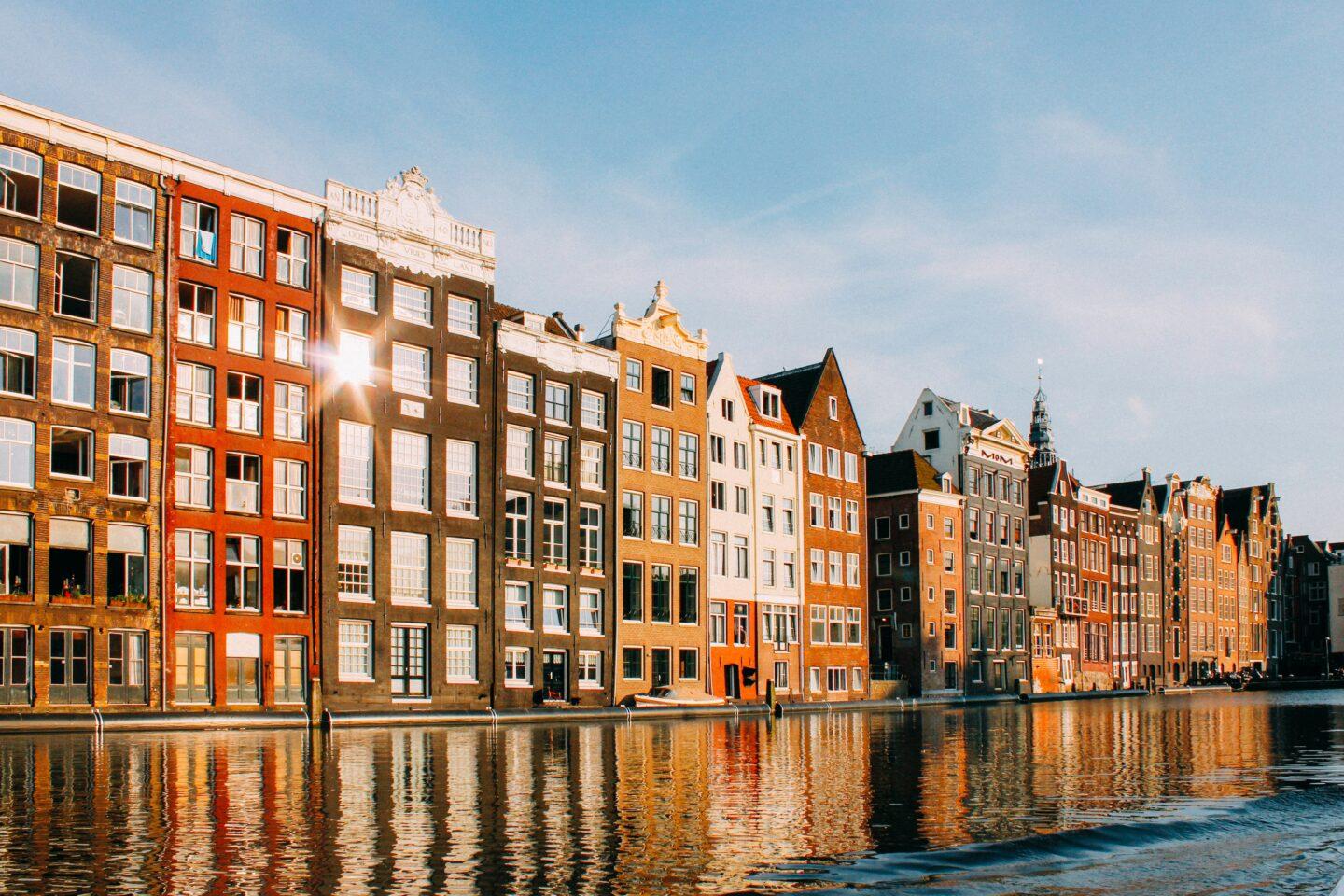 Amsterdam is undoubtedly one of the most recognisable and beautiful European cities and visiting it should be on every travellers list, as it is guarantee to leave you with long lasting impressions and memories for years to come.
Right off the bat i would like to say that visiting Amsterdam has never been easier on a budget! Join us in this post as we will cover affordable accommodation, cost-efficient activities, delicious street food and more!
First, lets start with:
1. A bit about Amsterdam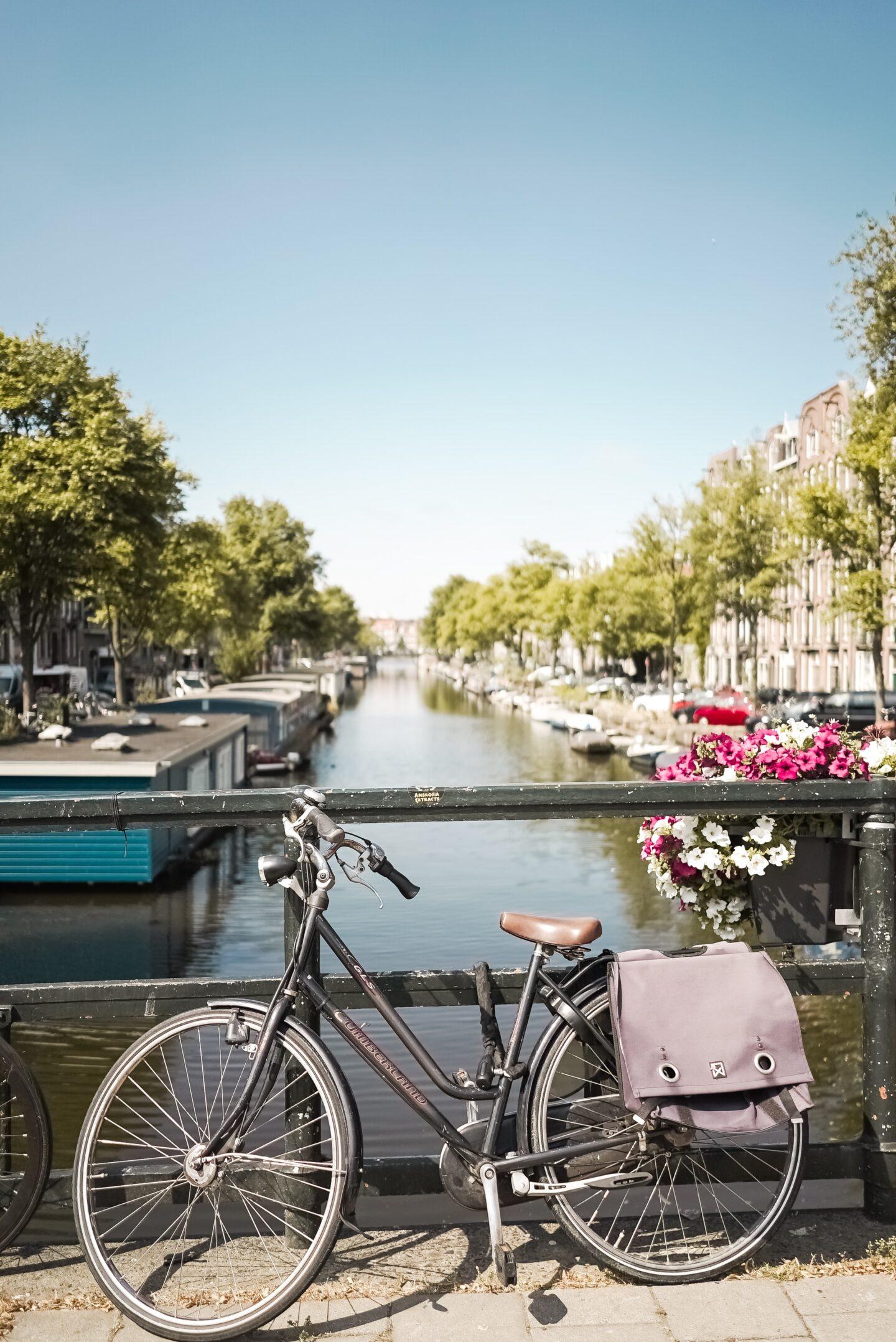 Amsterdam is the capital of The Netherlands, and at the same time the biggest city in the country, housing approximately 900.000 residents.
It's also one of the most visited cities in Europe, and the world, with around 19 million tourists coming to see it's picturesque medieval houses and canals, and experience it's famous nightlife.
When people think about Amsterdam they think of beautiful houses, some built around the 16th century, endless canals, bikes, coffeshops and of course its famous red light district.
The Netherlands is known for its love of bikes and Amsterdam is no different.
Having made infrastructure that favours safe and reliable biking, in this city you can live your life without ever needing to get behind the wheel. With that in mind public transportation is comprised of buses, trams and metro making it easy to go anywhere without much hassle.
But, if you really need to get behind the wheel you can feel at ease knowing that Amsterdam is one of the greenest cities with electric cars almost outnumbering regular ones.
The city itself blends old and new in an elegant way, keeping the historic center with its beautiful canal houses intact, while also a short boat ride away in its North district, there are new and shiny glass and steel buildings fitting to any modern metropolis.
Its red light district is world famous, as its tolerance and liberties towards recreational substances, things that are in fact a bit of a double edged sword as these in away take from the true Dutch experience and history of the city.
All of these combined make Amsterdam a tourist hotspot that has plenty to offer and if done right you do not need to break the bank to be able to visit it and experience its wonders.
Thus let's take look at how much does it really cost to visit Amsterdam in 2022.
Let's break it down in 3 scenarios that fit almost any budget, so it will be up to you just how cheap or how crazy you want to make your trip to the Tulip capital!
What may come as a surprise to some, Amsterdam can totally be enjoyed while on a budget, it will just take a bit of creative thinking and planning but in the end you will definitely enjoy it.
2. Where to stay
Accommodation is one of the most expensive parts of any holiday and it's certainly true when visiting this city.
With the prices of housing going through the roof in the Netherlands, finding a place to stay as a resident or a tourist is getting increasingly difficult. So much so that the city council actually banned Airbnbs and similar type of short term accommodation options from the city center.
Taking that in consideration let's have a look at other options.
A. Cheapest: Couchsurfing
Working our way up from the cheapest, there's the option of couch surfing.
I will not get into the details of couch surfing or it's pros and cons but what i would like to point out is that Amsterdam has a thriving community and social scene made up of expats from around the world who are more than willing to meet new people and make new friends, so give it a chance!
B. Cheaper: Hostels
The next popular option for when you are on a budget are hostels.
I've written a post on why hostels are a great idea especially when you plan on travelling solo, but in short these are a great meeting hub to connect with other travellers and make new friends all the while keeping to your budget. Sites like Booking.com offer handy overviews of hostel options but these are 3 of the ones i like to recommend to friends and travellers alike:
Via Amsterdam – its located 10 minutes by metro from the city center, Via Amsterdam is a design-led hybrid hostel and hotel with street art and urban design featured throughout the building.The property situated in the Bijlmermeer district, rooms with a private bathroom and offers perks like bike rental, a cinema room and relaxing areas.
Hans Brinker Hostel – Situated in the city centre of Amsterdam and only a 2-minute walk from Leidseplein, Hans Brinker Hostel Amsterdam offers a choice of private rooms and shared dormitories for individuals, backpackers and groups. Each room at Hans Brinker Hostel Amsterdam has a private bathroom and lockers for personal belongings. Perks include a bar and an underground club.
Stayokay Hostel Amsterdam Vondelpark – ocated in the heart of the Vondelpark and offers a view on the green surroundings. The Van Gogh Museum is an 8-minute walk away.offers bunk beds in shared dormitories as well as private rooms. All rooms/dorms have a bathroom and lockable cupboards.
C. Cheap-ish: Hotels
For the ones who prefer a bit more privacy, budget hotels are also an option although a bit harder to find in Amsterdam.
While there are for sure hotels that will have lower prices that the ones presented in this post, please do your due diligence and research them before hand, as not all hotels are created equal.
Top 3 hotels in my book for a budget stay are:
XO Hotels Infinity – it has good transport links to the centre of Amsterdam and Schiphol Airport. The rooms are cozy and modem although not very elaborate decorated, staying in the vibe of less is more. It's a simple hotel great for a short stay.
Hotel New Kit – it's in the Geuzenveld-Slotermeer district of Amsterdam, Hotel New Kit is set 4 km from Anne Frank House, 5 km from Royal Palace Amsterdam and 5 km from Van Gogh Museum. Rooms in the hotel are fitted with a kettle. Complete with a private bathroom. It's proximity to the center is one of it's main perks, since Moco Museum is 5 km from the hotel, while Rijksmuseum is 5 km away.
Hotel Heye 130 – the rooms include a wardrobe, a flat-screen TV, a private bathroom. It's one of the closest to the center and actually allows you to live in true Amsterdam neighhood and feel like a local, at least for a while.
3. Where and what to eat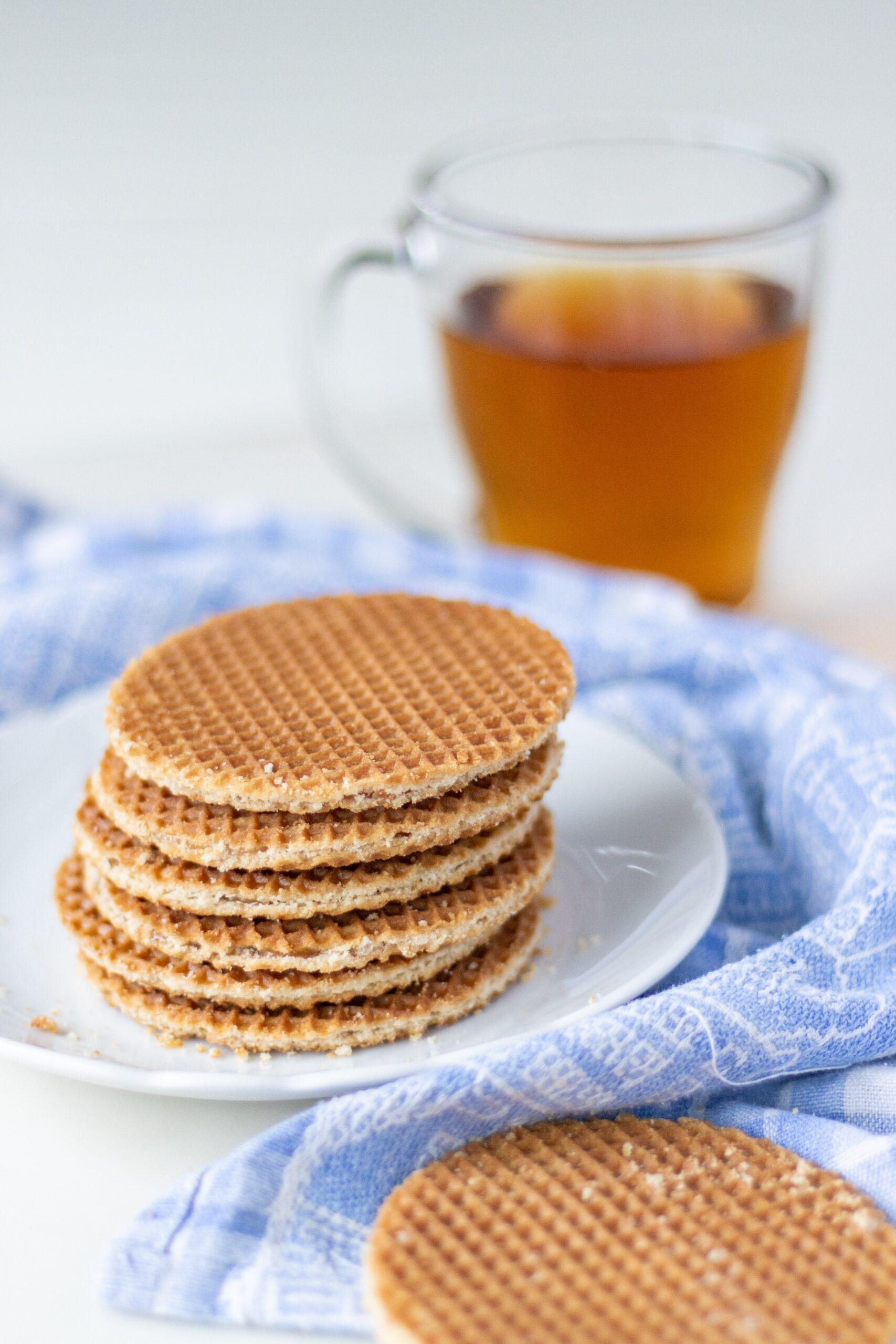 There is no shortage of restaurants to choose from in Amsterdam, spanning from cultures all over the world.
This means that you'll have plenty of options to choose from, but as always there's a catch.
For the traveller who hasn't done his or her's homework it might be easy to be caught up in the moment (we all know what happens when we're hungry) and choose sub par restaurants that just so happen to be close to you and end up having a disappointing culinary experience. And you're not in Amsterdam for that.
So although typical tourist focus restaurants will line the center and its more busy streets (some are exceptions and have good food), if you know where to look there are hidden gems that will satisfy both your hunger and your wallet.
What i always recommend when visiting a new place is trying the local cuisine.
The Dutch are big fans of sandwiches and they can get fairly creative with them, either for lunch or dinner – they are the go to meals. Alongside bitterballen, croquettes, frikandel, vlamse fries, pickled herring just to name a few.
Cafe Hoppe – this venue is the perfect place for a quick lunch that will allow you to try some sandwiches and autentic dutch bitterballen. It's a chic place and it's one of the Amsterdam's oldest cafe's. It's located in a historical building in the bustling Spui neighborhood and it's guaranteed to immerse in the dutch way of living.
Cafe van Zuylen – it's a cozy cafe/pub offering typical Dutch eats, coffee & beer, plus outdoor seating on a canal bridge.
Hollands Hap Hmm Restaurant – a true Dutch restaurant, featuring deco, dishes and scenes that would make any local instantly feel at home, thus it's a perfect place to get the feel of Dutch culture.
4. What to do in the city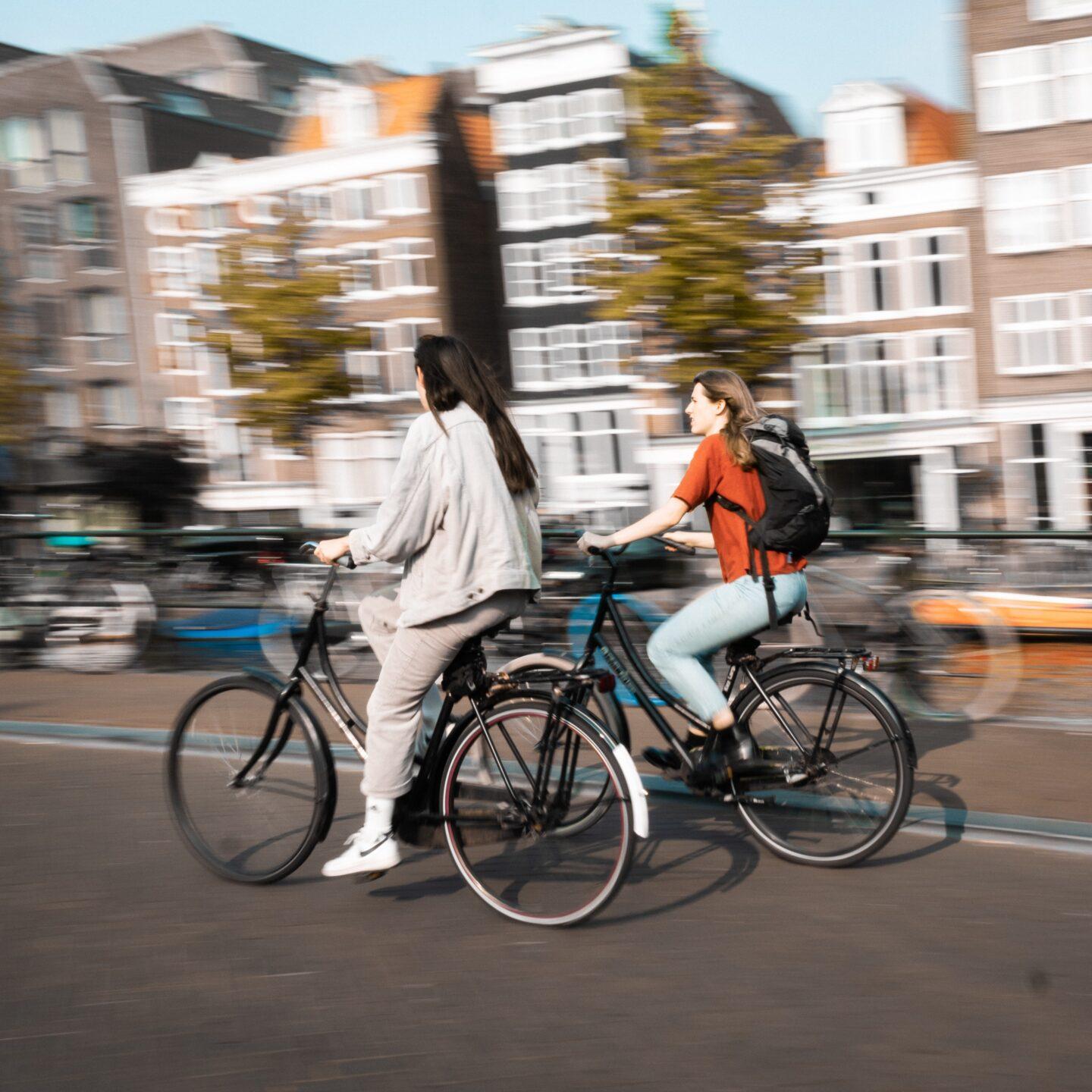 Activities are usually the make or break factors when it comes to budget.
Having said that, while visiting a place for the first time it would indeed be a shame to not partake in some activities some might label, as cliche touristic, but if approached with an open mind you will discover that most of these actually do provide nice experiences and information in a short amount of time.
The alternative would be discovering these things by yourself, by chance and by luck or by a nifty trick in Google Maps.
And let's start with an activity that does not impact your travel budget at all:
Walking and exploring the city – this is the best way to see any city, period. There's nothing better than taking your time and wondering down the streets and canals of the city, admiring the beautiful classic houses, discovering local boutiques and cafe's and taking a break on a bench in Vondelpark, the park that inspired it's larger cousin in New York.
Guided bicycle tours – are a great way to combine one of the Dutch favorite ways of transport with sightseeing and learning about the rich history of the city, taking you from the usual landmarks to the lesser known areas and even to the Red Light District.
Canal tours – so touristy i know, but a great way to experience one of the landmark features that makes this city so special. There are plenty of deals here, and although i would normally recommend a private boat or smaller group boar tour those usually require more budget and we will discuss about them in the next posts.
Rijks Museum – for those of you who like a more cultural experience, Rijks Museum offers glimpses into the past and you can see famous works from Rembrant and other Dutch artists.
TukTuk – if you're not a fan of walking, or biking for that matter, you can get someone to do that for you, and bike you around in style while also being able to enjoy the views and have a guide around for the trip. Great for a group activity!
Conclusion
As you can see Amsterdam is a city that is worth visiting on a budget albeit with a bit of preparation and research. The charm of its streets, canals, and building will surely leave a long lasting impression and memories for a lifetime.
Travelling on a budget is great and challenging yourself to find the best deals for the buck is always fun, feel free to check some of my other guides here about this topic.
In part 2 and part 3 we are going to see how you can experience Amsterdam with a medium and high budget.
For more travel content and guides on anything from hidden spots to amazing restaurants, follow us on Instagram and Tiktok!
See you soon!