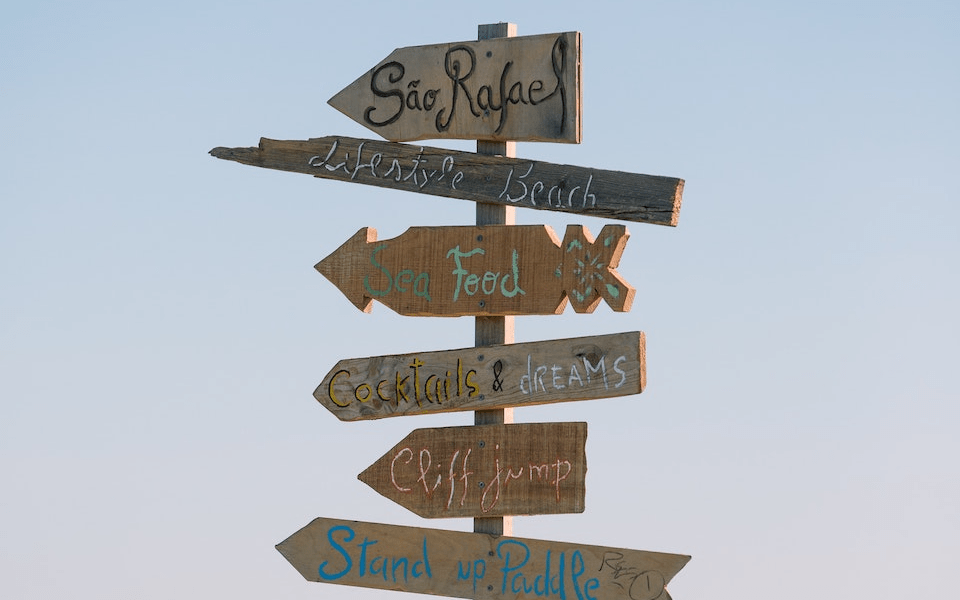 So, you like a challenge? A challenge on how to be able to travel on a budget with just $10 per day will, not going to lie, be quite intense. But with careful planning, patience, and a bit of luck as well as implementing what i will show you in this guide, you will find yourself on the next flight out in no time.
I personally love this type of travel.
And i've done this challenge plenty of times, mostly because i was young and on a tight budget but still wanted to travel. Later on, it's still the case, because i thoroughly enjoy finding good deals.
I've already written about the best budget travelling options here, but in this post we are going a step further and really push the limits.
In a nutshell the 5 ways to travel on a budget with just $10 a day are:
Research budget destination and what is the best way to get there
Look for plane ticket deals
Hostels offer quite a lot of advantages compared to hotels if chosen wisely
The room sharing in Airbnb is a great option
Cook your own food and use apps for food deals
Since we are on a tight budget, we have to be smart when choosing how to get to our destination.
Finding plane tickets for $10 to Bora Bora if you live in, say Amsterdam, would be nothing short of a miracle.
Thus we have to adjust our expectations a bit and look at options that are attainable.
We will be referring here to a full travel planning. From flights to accommodations to activities, the whole experience as you cannot have one without the other, so let's get started.
1. Find which destinations are the most budget friendly and what is the best way to get there
Let's start by addressing land based travel options.
These modes of transportation have their benefits but also some drawbacks.
The most obvious benefit is that they are usually cheaper than a planes and are a great option for short to medium distances (think of specific smaller cities, national parks, villages, etc).
The reason i say short to medium distances is simply because of the convenience of planes.
As well as the fact that you will not have to sit in the car (bus, train, etc,) for days to get to the same destination that you could get to in 2-3 hours via plane.
For anything longer than a few hundred km's the price per day for gas (unless you have an electric car of course) will exceed $10 so we will end up failing the challenge.
2. Flying in most cases is cheaper than buses or trains if you plan ahead
Because we are on a tight budget we have to adjust our expectations a bit (Bora Bora will have to wait).
Let's start by being spontaneous and flexible when it comes to the destination.
For this post we are going to be focusing on Europe, as Europe has really competitive low cost airlines that fight to get you the best possible deals.
This is the key for us to get a 10$ flight ticket.
Companies like Ryanair, Wizzair, Easyjet and a plethora of other low cost airlines are very active.
They fly to plenty of destinations and major cities in Europe and offer great deals for all budgets.
The next step i would normally recommend is to check on their sites if they have any deals flying towards the destination you want to go to.
But in this case there is a better more efficient way. Because we are on such a tight budget , even with these low cost airline finding a 10$ ticket to somewhere will be quite the challenge.
Time for deals
Thats the reason in this case i would recommend you use a flight aggregator website like Skyscanner or Momondo.com.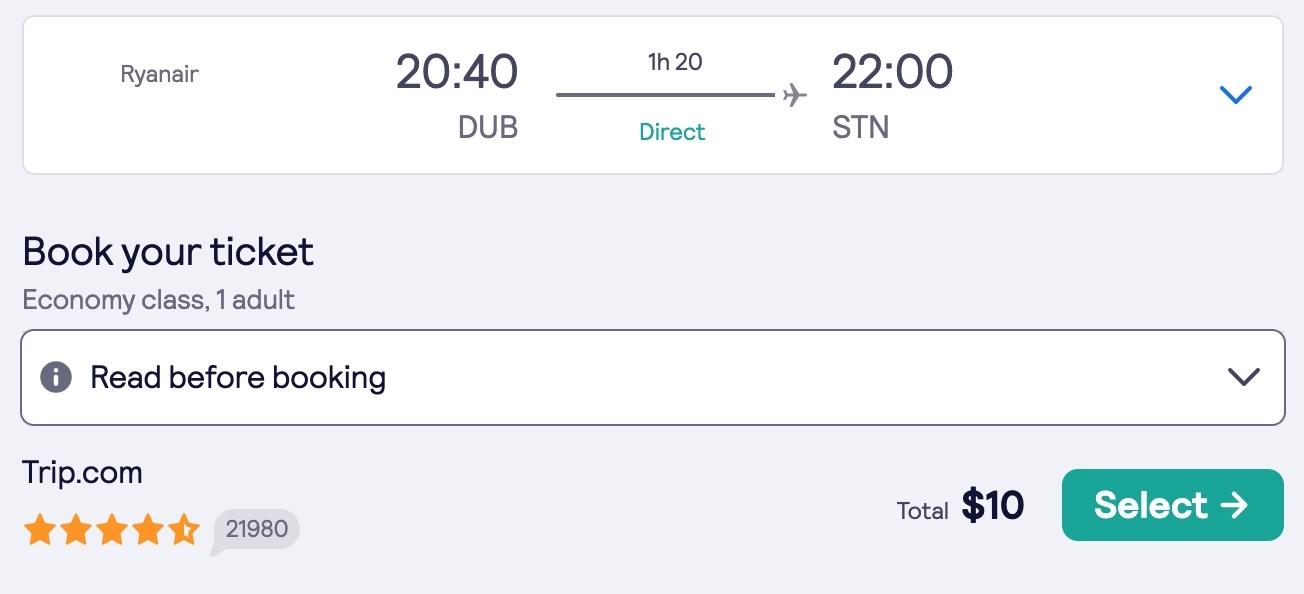 I personally use Skyscanner as i tested most of them and i consistently get better deals while searching with it.
While performing a search keep an eye on the "Cheapest" tab as that will be your best bet to getting to sticking to your budget.
You will need plenty of patience, flexibility and some luck. If you are persistent and do not give up then eventually you will be able to find those precious plane tickets that will allow you to pack up and go.
If you are a member of programs like Miles&More, FlyingBlue and similar, or have the option to use air miles that you collected via credit card offers, then this would be the time to use them.
Usually the companies who offer these kind of rewards are above this budget.
However depending on your specific situation and how many miles you have managed to collect you might have the chance to get a bargain and in some instances even travel for free!
3. Hostels offer quite a lot of advantages compared to hotels if chosen wisely
Hotel rooms with jacuzzis and room service will be hard to come by at $10 budget per day.
Don't worry, there are plenty of other option though.
Hostels are the first to come to mind. Here you can usually find a place in a shared room type of accommodation, and only spend a few dollars per night. Hostels have plenty of advantages too.
Meeting like minded travellers, making friends, finding out the coolest hotspots in town and having companions with whom you can explore.
I have a friend who did just that in Laos, SE Asia. She went there by herself on her own budget travel adventure, and ended up staying at a hostel.
If you've never tried the hostel experience i've would totally recommend you give it a go at least once to see if you like it or not.
The best and easiest way to find hostels at your destination is using Booking.com.
There you will have the option to select your price range and even the "Hostel Filter" as shown here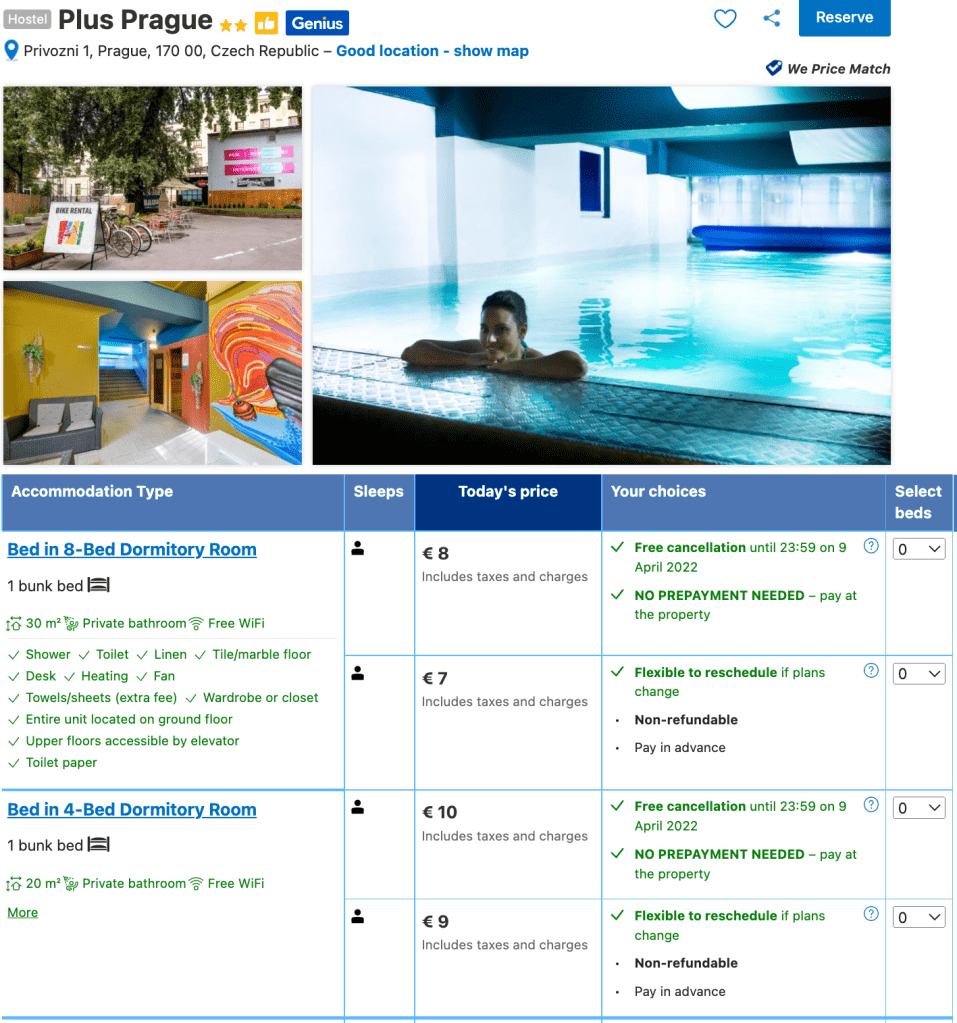 4. Airbnb is a great option for those who want a bit more creature comforts compared to a hostel
If hostels are really not your cup of tea, then the next best option to find accommodation at this price is Airbnb.com.
On Airbnb you will have plenty of options to choose from and you can even select the type of accommodation you want such as "Entire place", "Private room", "Shared room", etc.
The last one is similar to a hostel type of setting. Thus if a hostel is not your thing, then my suggestion is to go with the "Private room" option.
This means that although you will be sharing the house with someone else, you will have a room all for yourself.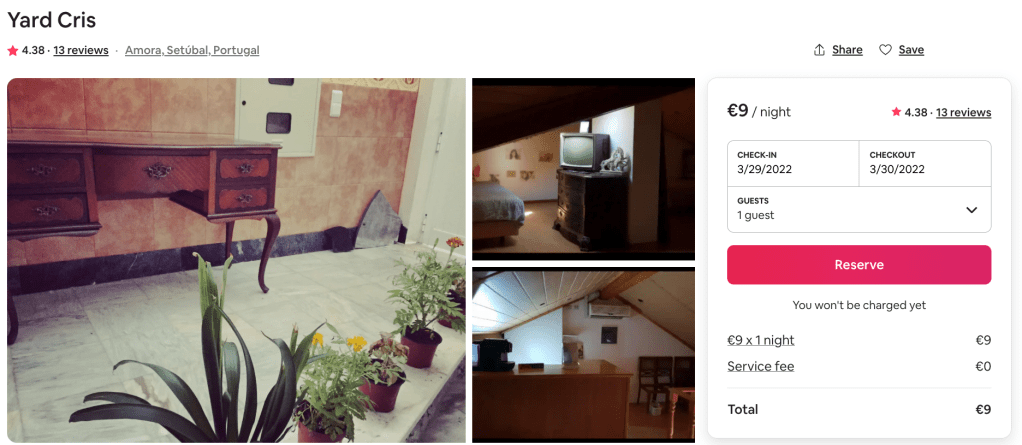 Keep in mind that even with this option you will still be sharing some areas of the house, such as the kitchen or the bathroom.
The same applies here as with the airline tickets, take your time and carefully plan each step as you wouldn't want to finally find those $10 airline tickets and then there are not accommodation option for that price range.
5. Cooking your own food or using services that prevent food waste is a great option to stay in your budget
After putting in all this effort, finding the tickets, finding the place to stay, you have finally arrived at the destination.
You can take a breath of relief as the hard part is over. Now it's time to enjoy and explore.
We still consider our daily spending budget of $10 per day in this scenario.
While Michelin star restaurants might be a bit hard to get with this budget, there are still more than enough options to choose from.
An even better option to not spend your entire budget is actually to do groceries and cook the food yourself.
Most of the places where you will be staying will have some sort of cooking area. Be it a fully fledged kitchen or just a small corner kitchenette, its usually more than enough to prepare some quick food.
Shop like a local
Try to shop locally with fresh products and stay away as much as possible from the canned or industrially packaged foods. Health first!
But sometime it's nice to spoil yourself a bit and hopefully there will be plenty of decently priced restaurants in your area. A quick Google search will show suitable options.
Quick tip look for the one or two dollar (or euro) signs in the search next to the restaurant. This shows their price range.
Sites like Groupon are also a great way of discounted finding deals on restaurants and activities so be sure to check it out next time you are on holiday.
I personally enjoy using sites like this as you can find hidden gems here for the fraction of the price (such as dinner at a Michelin star restaurant for 1/10 of the original price!).
Less waste, more satisfaction
Another option in most European cities is a service called TooGoodToGo.
They are focused on reducing food waste.
Think of stores that have products that are a few days from expiration. Rather than throwing it away, with this service they can cut their losses and also prevent waste.
It's a great way to save money and eat good food as most options there cost around $5.
Remember when it comes to food and activities be smart with your budget.
For example if you are going to be there for 5 days and have a budget of $50 then one day you can spend $20 on a restaurant meal and the rest you can use to do groceries and eat it.
Mix and match this and find the best solution for you. In the end its important to enjoy this vacation that you worked hard for!
Conclusion
Travelling with $10 per day it's a bit like a balancing act from trying to find the best deals.
But then again after all the planning and hard work you put in, whatever combination you will end up with will be worth it.
You should be proud of yourself and your hard work, as after all of this the next step is to go enjoy the fruits of your labour and make incredible stories and timeless memories!
For more travel content and guides on anything from hidden spots to amazing restaurants, follow us on Instagram and Tiktok!
See you soon!