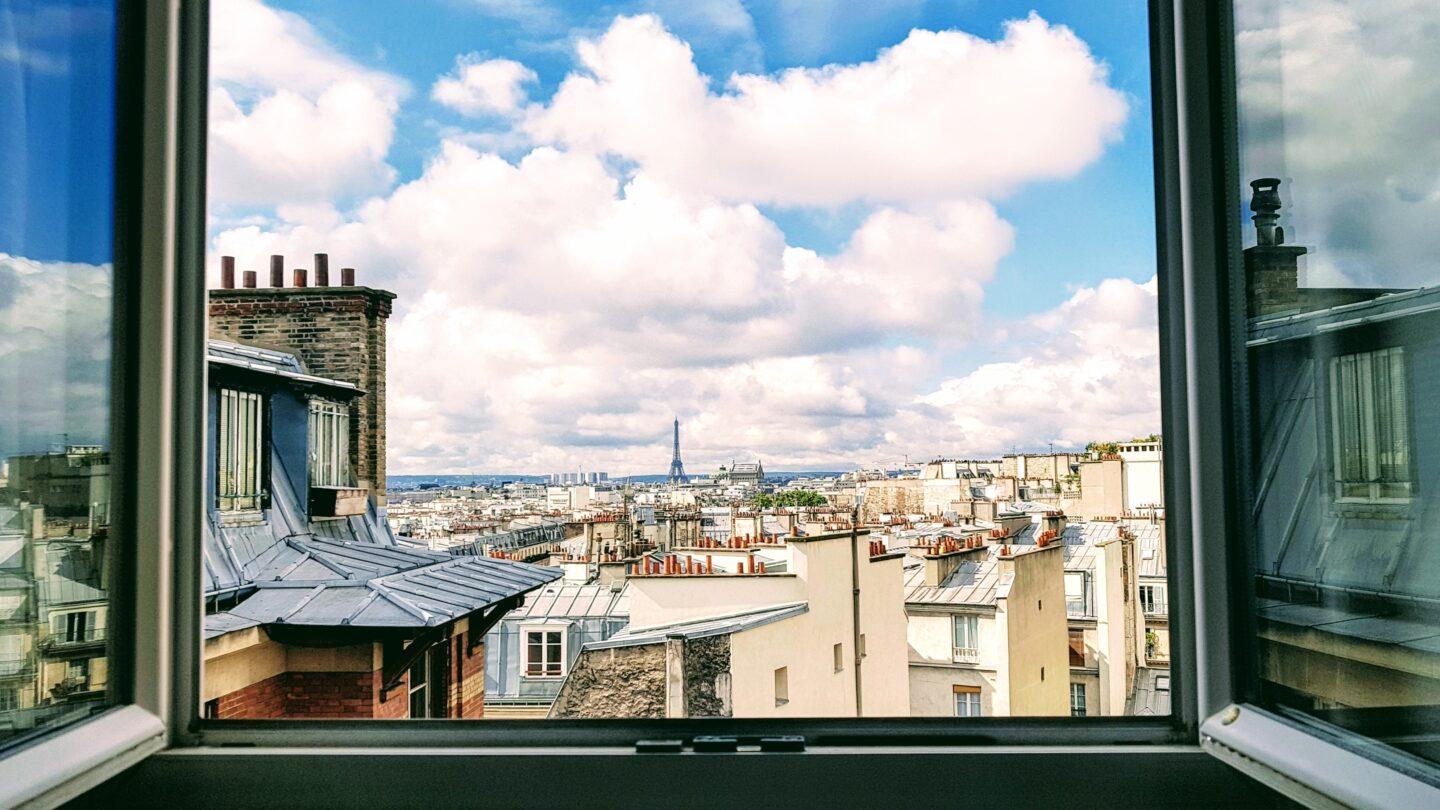 Paris, the city of love and romance, is full of hidden gems.
With its stunning architecture, rich history, and unparalleled cultural offerings, it's no surprise that millions of tourists flock to Paris each year.
However, as a wannabe local, I know that there is so much more to this city than what meets the eye.
In this blog post, I'm going to share with you 10 hidden gems in Paris that only locals know about.
A note to this claim has to be made however. With the internet being full of information and social media being more popular than ever, it's really hard to say with certainty that no one else knows about these places. Other than the locals of course. Scrolling through the list you might even recognize some of these places in which case, congrats! It means you know Paris better than most.
And that's what we want to present in this article. Places that are not so well know, hidden even, from the regular tourist paths.
So if you know some feel free to consider yourself an honorific local!
In a nutshell the 10 "hidden gems" of Paris that we will explore in this post are:
The Promenade Plantée
Musée de la Chasse et de la Nature
Square des Peupliers
Le Comptoir Général
La Recyclerie
The Paris Sewer Museum
La Galerie Vivienne
Le Marais
Butte-aux-Cailles
The Petite Ceinture
1. The Promenade Plantée
The Promenade Plantée is a true oasis of calm and beauty in the heart of bustling Paris.
This elevated park gives visitors a unique experience. It follows the path of an old railway line that has been transformed into a lush green pathway.
As you walk along the Promenade Plantée, you are treated to breathtaking views of the city. Think of stunning vistas of the Parisian skyline and charming glimpses of hidden gardens and historic buildings. .
With its winding paths, colorful flowers, and verdant foliage, the Promenade Plantée is a true natural wonder in the heart of one of the world's most vibrant cities.
This hidden gem is a favorite among locals and is the perfect place to take a romantic stroll.
Speaking of romantic strolls and dates in the city of love, take a look at our post on The most romantic date spots in Paris, to get some more ideas for that special someone.
2. Musée de la Chasse et de la Nature
The Musée de la Chasse et de la Nature is truly one of the most unusual museums in Paris.
And certainly one of the most interesting. Stepping inside this quirky museum, you are transported into a world of hunting and nature.
It has an impressive collection of taxidermy animals, vintage hunting gear, and antique weapons.
But the museum isn't just about showcasing the trophies of successful hunts. Instead, it offers a thought-provoking exploration of the relationship between humans and nature, and the complex history of hunting and conservation.
One of the most unique aspects of the museum is its commitment to education and conservation.
Located in the heart of the trendy Marais district, the museum is housed in a historic building that dates back to the 17th century.
The building itself is a work of art. With stunning architectural features and beautifully restored interiors that transport visitors back in time. From the moment you are stepping inside, you'll feel as if you are transported to another era.
The museum's expertly curated exhibits provide a fascinating glimpse into the past.
This museum is not as famous as the Versailles or the Louvre, but it surely deserves a visit.
If you are not in a hurry and can enjoy the city at your own pace, then head over to our Itinerary for a week in Paris to make sure you don't miss a thing!
3. Square des Peupliers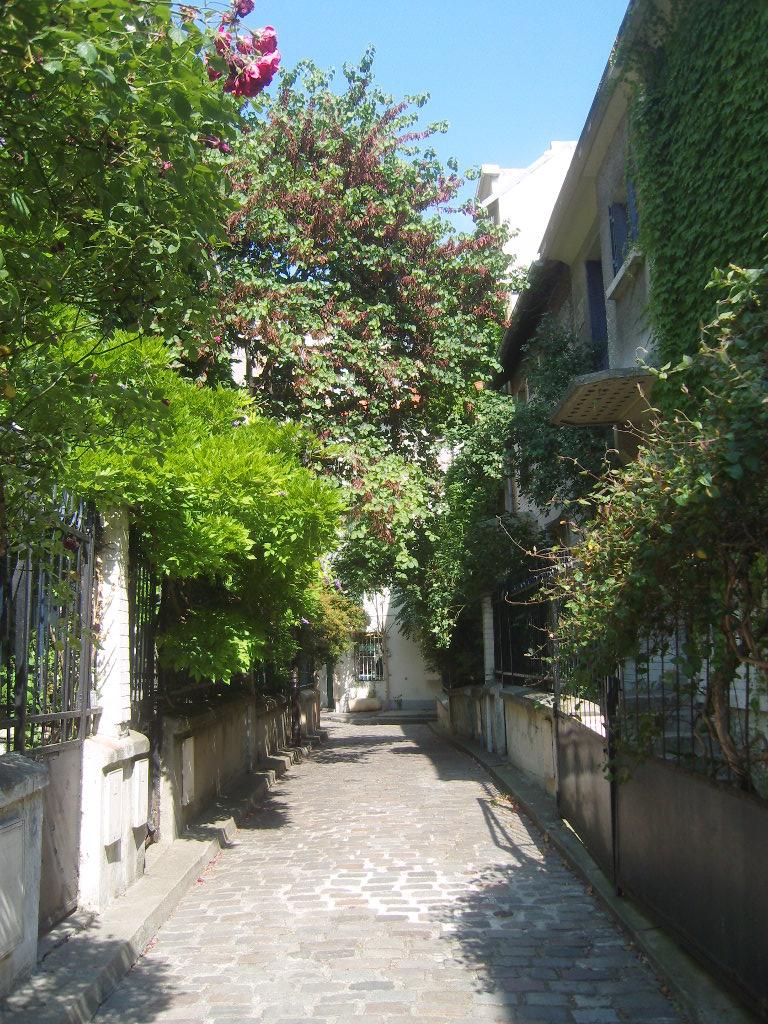 Tucked away in the 13th arrondissement, the Square des Peupliers is a hidden oasis of tranquility.
The 13th arrondissement is charming and beautiful and is one of my favourite parts of the city.
If you're not familiar with how the city is split up and want to learn what are the best neighbourhoods to visit take a look at our Guide to the Arrondissements!
Here you will find a true oasis of calm and beauty. Visitors get a well deserved respite from the hustle and bustle of city life.
From the moment you step inside the park, you'll be find a world of peace and tranquility. Lush greenery, picturesque houses, and charming pathways everywhere.
One of the highlights of the Square des Peupliers is its row of picturesque houses that line the park's perimeter.
These charming homes are straight out of a fairytale, with their colorful facades, ivy-covered walls, and quaint shutters. The houses are a perfect example of Parisian architecture and offer a glimpse into the city's rich history and culture.
4. Le Comptoir Général
Le Comptoir Général is a true Parisian gem.
It combines art, culture, and nightlife in a way that is truly unique. Located in the heart of the trendy 10th arrondissement, this cultural center and bar is a hotspot for locals and visitors alike.
It offers a truly unforgettable experience that is unlike anything else in the city.
As soon as you step inside Le Comptoir Général, you'll be transported into a world of creativity and imagination. The decor is a mix of vintage and modern elements. Sprinkled with a unique blend of African and French influences that create a truly unique atmosphere.
From the eclectic furnishings to the stunning artwork and vintage knick-knacks, every corner of this space is a work of art in its own right.
If you're curious to learn about more hotspots and restaurants, take a look at 7 Restaurants in Paris you must try, and make your night out memorable!
5. La Recyclerie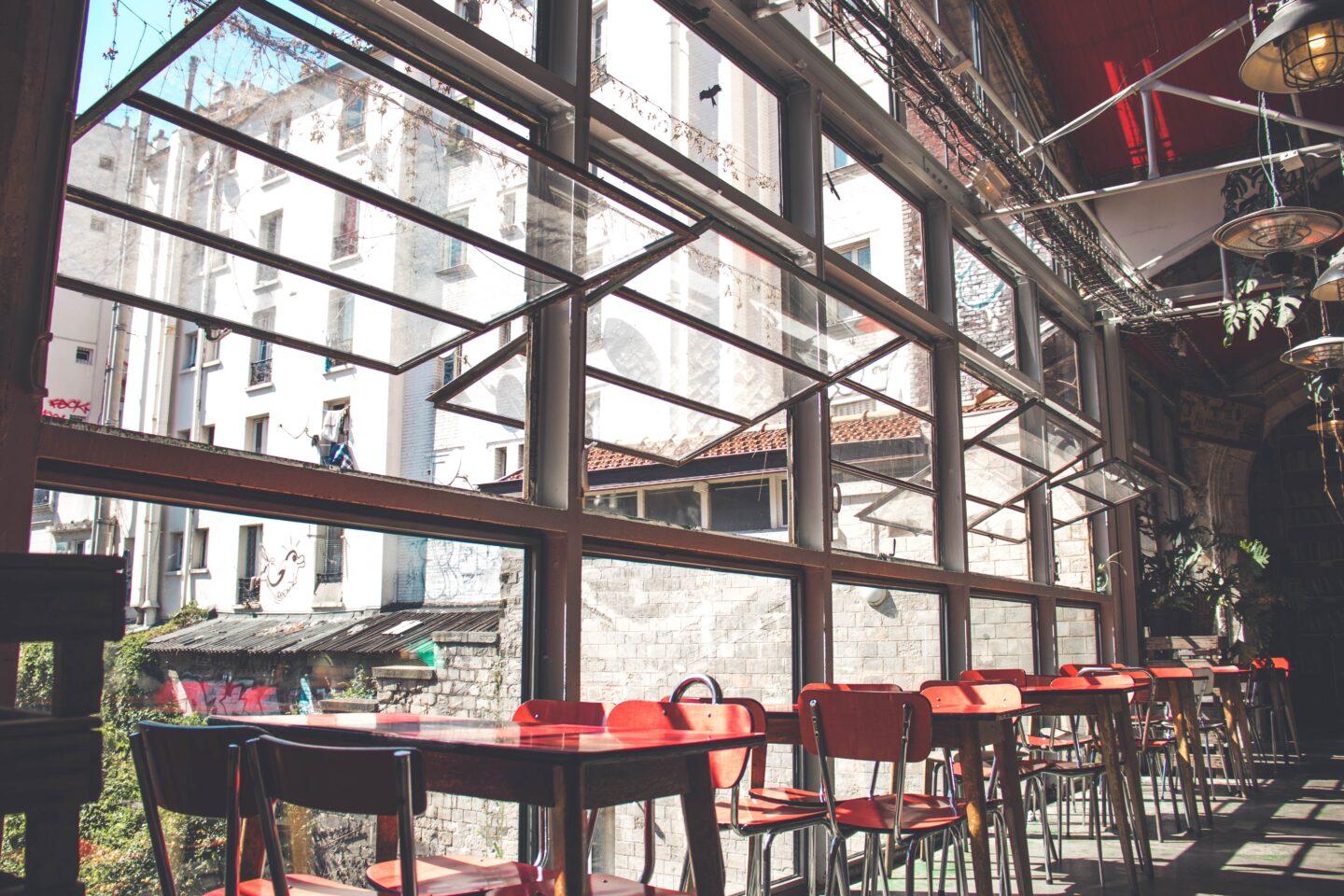 La Recyclerie is a sustainable cafe located in a former railway station in the 18th arrondissement.
This eco-friendly establishment has delicious food and drinks made from locally sourced, organic ingredients.
In addition to its sustainable food and drink offerings, La Recyclerie is also a hub for community engagement and education. The cafe hosts a range of events and workshops throughout the year.
All focused on promoting sustainable living and reducing waste. From composting workshops to seed-swapping events, there's always something happening at La Recyclerie. Hopefully to inspire you to live a more sustainable life.
Also on the topic of nice places to have a drink make sure to take a look at this post about rooftop bars, check it out here!
6. The Paris Sewer Museum
The Paris Sewer Museum may not be for everyone.
But for those who are interested in the history of Paris's underground tunnels, it's a must-visit.
Located beneath the streets of Paris, this museum gives us a unique glimpse into the city's sewer system and the role it has played in shaping the city over the centuries.
One of the most striking things about the Paris Sewer Museum is just how well-preserved the underground tunnels are.
From the moment you step inside, you'll be struck by the scale and intricacy of the sewer system. The museum offers a range of exhibits and displays that explain how the sewer system works, how it was built, and how it has been maintained over the years.
7. La Galerie Vivienne
La Galerie Vivienne is one of the most charming and picturesque spots in all of Paris.
Visitors have the chance to step back in time and experience the city as it was centuries ago. This stunning covered passage is a hidden gem tucked away in the heart of the 2nd arrondissement and is often overlooked by tourists in favor of more well-known attractions.
However, those who take the time to explore La Galerie Vivienne are in for a real treat.
The passage was built in 1823 and features stunning architecture that is reminiscent of a bygone era. As you wander through the passage, you'll be struck by the intricate details and elegant design of the building.
It features glass roof that allows natural light to flood in and illuminate the space. The passage is lined with a variety of shops and cafes, many of which have been in operation for centuries. You'll have the chance to experience the charm and history of old-world Paris.
8. Le Marais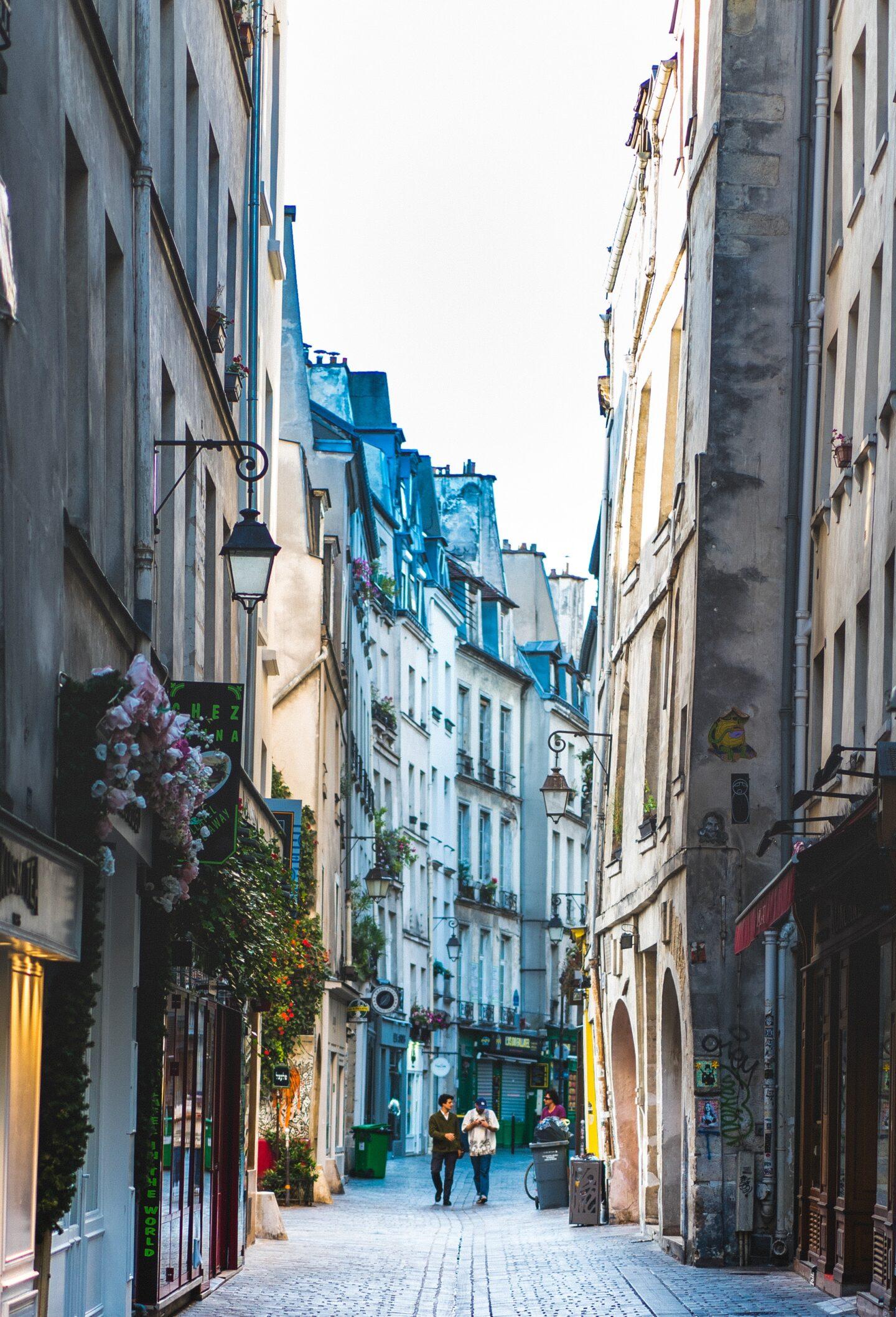 Le Marais is a district that is steeped in history, and it is one of the most charming and picturesque areas of Paris.
With its narrow cobblestone streets and historic buildings, it is easy to get lost in the beauty of this hidden gem. The district has a rich cultural scene and is home to a variety of art galleries, museums, and historic landmarks.
One of the most striking things about Le Marais is its diverse architecture. The district is home to buildings from a variety of different periods, ranging from medieval structures to elegant 17th-century mansions.
As you wander through the streets, you'll be struck by the variety of styles and influences that have shaped the district over the years. From personal experience i'd say it's one of the best place to live in Paris.
However moving to Paris can be quite expensive, so make sure to do your research before!
9. Butte-aux-Cailles
Butte-aux-Cailles is not only a charming neighborhood but also a historic one.
It was once a working-class area that was home to many immigrants who came to Paris seeking a better life.
Today, it still maintains its bohemian character and is home to a diverse community of artists, students, and young professionals. One of the most unique features of the neighborhood is its street art.
The walls are adorned with colorful murals, graffiti, and stencil art, making it a haven for art lovers.
10. The Petite Ceinture
Walking along the Petite Ceinture is a great way to experience Paris from a different perspective.
The abandoned tracks are now a haven for nature and wildlife, with wildflowers and grasses growing between the rails. Along the way, you'll also come across old train stations, bridges, and tunnels that have been preserved as a reminder of the railway's former glory.
One of the most interesting aspects of the Petite Ceinture is that it runs through several different neighborhoods.
From the trendy 19th arrondissement to the quiet 15th, you can see a side of Paris that you might not have otherwise experienced.
If you're a history buff, a nature lover, or just looking for a unique way to explore the city, the Petite Ceinture is a hidden gem that's not to be missed.
Conclusion
In conclusion, Paris is a city that is full of hidden gems just waiting to be discovered.
From picturesque parks to quirky museums to charming neighborhoods, there's always something new to discover in this magical city.
So the next time you find yourself in Paris, be sure to step off the beaten path and discover the hidden gems that only locals know about. You never know what you might find.
For more travel hacks and guides on anything from hidden spots to amazing restaurants, follow us on Instagram and Tiktok!
See you soon!