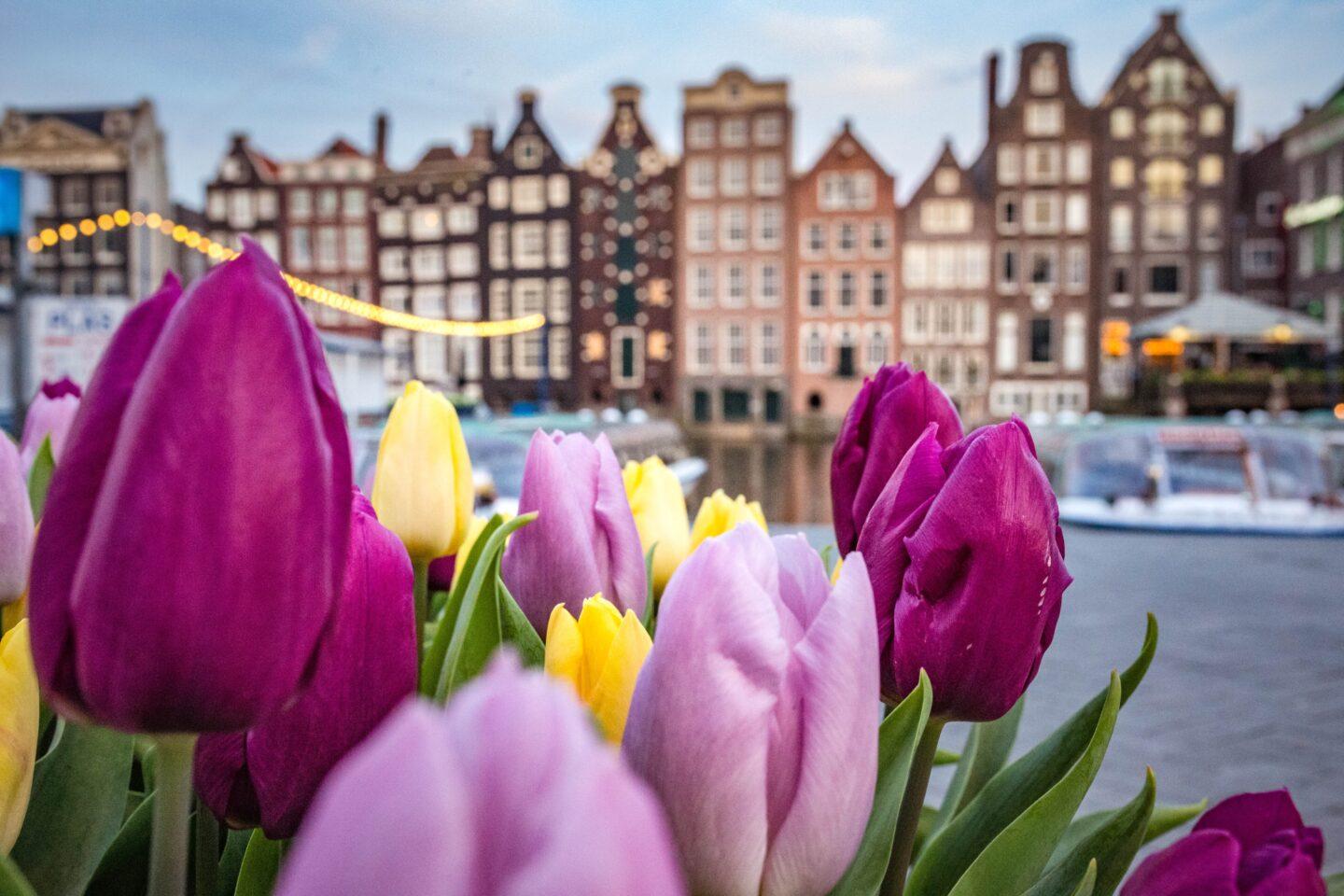 Hey there, fellow wanderlusters! Are you ready to dive headfirst into the whimsical wonderland of Amsterdam? This vibrant Dutch city is renowned for its canal-laced streets, tulip-filled gardens, and a culture that's as quirky as it is charming. But amidst these delights, you might find yourself pondering the burning question: "Which month is the absolute best month to visit Amsterdam?"
A bit about Amsterdam first. It's the enchanting capital of the Netherlands, a city that offers something for everyone.
With its picturesque canals, historic architecture, world-class museums, and vibrant cultural scene, it's no wonder that millions of tourists flock to this charming destination each year.
But with so much to see and do, choosing the best time to visit can be a daunting task indeed.
In a nutshell the best month to visit Amsterdam is June. The weather is pleasantly warm, the chance of rain is reduced, and the city comes alive with festivals and art expositions.
However choosing the best month to visit this amazing city will ultimately come down to personal preference and travel deals.
Regardless of the season Amsterdam will not disappoint.
So, fasten your clogs, grab a stroopwafel, and let's embark on an unforgettable escapade!
Springtime Bliss: April and May
Spring is a magical time to visit Amsterdam, when the city bursts into color as the tulips bloom across the Dutch countryside.
April and May are particularly captivating months, thanks to the world-famous Keukenhof Gardens. Located just outside the city, Keukenhof showcases a stunning display of over seven million flowers, including countless varieties of tulips.
Lose yourself in a miriad of colors as you wander through the meticulously designed gardens.
The weather can be hit or miss in this time period. Since Amsterdam is quite close to the North Sea the weather can change fast and it's usually a bit chill and quite a bit rainy.
So an umbrella and rain proof poncho are a must. Especially if you plan on biking in the city.
In addition to the floral wonders, April also brings King's Day, a nationwide celebration in honor of the Dutch monarch.
On this day, the city is transformed into a sea of orange as locals and visitors take to the streets to celebrate with concerts, parties, and flea markets. Immerse yourself in the festivities and experience the vibrant energy that fills the air.
King's Day is the day when the Dutch temporarily let go of their famous stoic behaviour and just party. And we really mean party!
The canals are filled with colourful boats, people are relaxed and a drink is never too far away. If you like parties and going out then we fully recommend visiting the city during King's Day. However thats not to say Amsterdam is boring for the rest of the year, far from it.
Continue reading and you'll see that this is just the beginning in a season of parties that starts with King's Day and continues with countless world class festivals.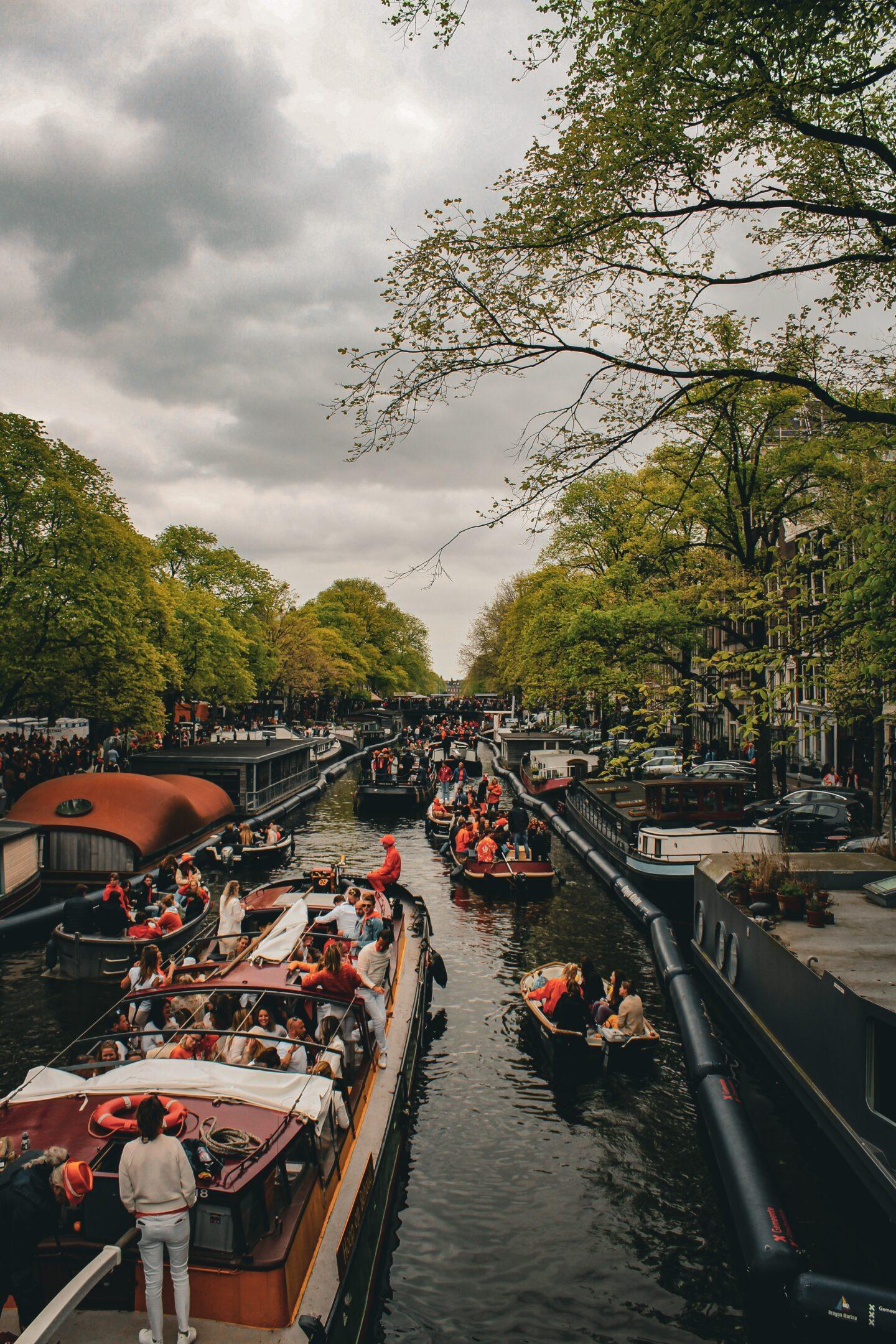 Summer Vibes: June to August
Summertime in Amsterdam is a delight for outdoor enthusiasts and culture aficionados alike.
With longer days and pleasant temperatures, this is the perfect season to explore the city's iconic canals by boat or bicycle. Join the locals as they soak up the sun in parks and open-air terraces, or take a leisurely stroll along the bustling streets lined with cafés and boutique shops.
June also brings the Open Garden Days, allowing you to explore the hidden oases tucked behind Amsterdam's historic canal houses.
Step into beautifully manicured gardens and experience a tranquil escape from the city's lively atmosphere.
The weather is warm and pleasant, although rain is never far away and sometimes accompanied by wind. So keep that umbrella close by!
Speaking of parks, Vondelpark is a must visit. For those of you who've been to New York, it will feel familiar, although in reduced proportions.
Keep in mind that in summer the city is full of tourists. And i mean full. Amsterdam is one of the most visited cities in Europe, getting around 18 million tourists per year.
So make sure you book your flights and accommodation well in advance to avoid paying a small fortune.
Festival Fever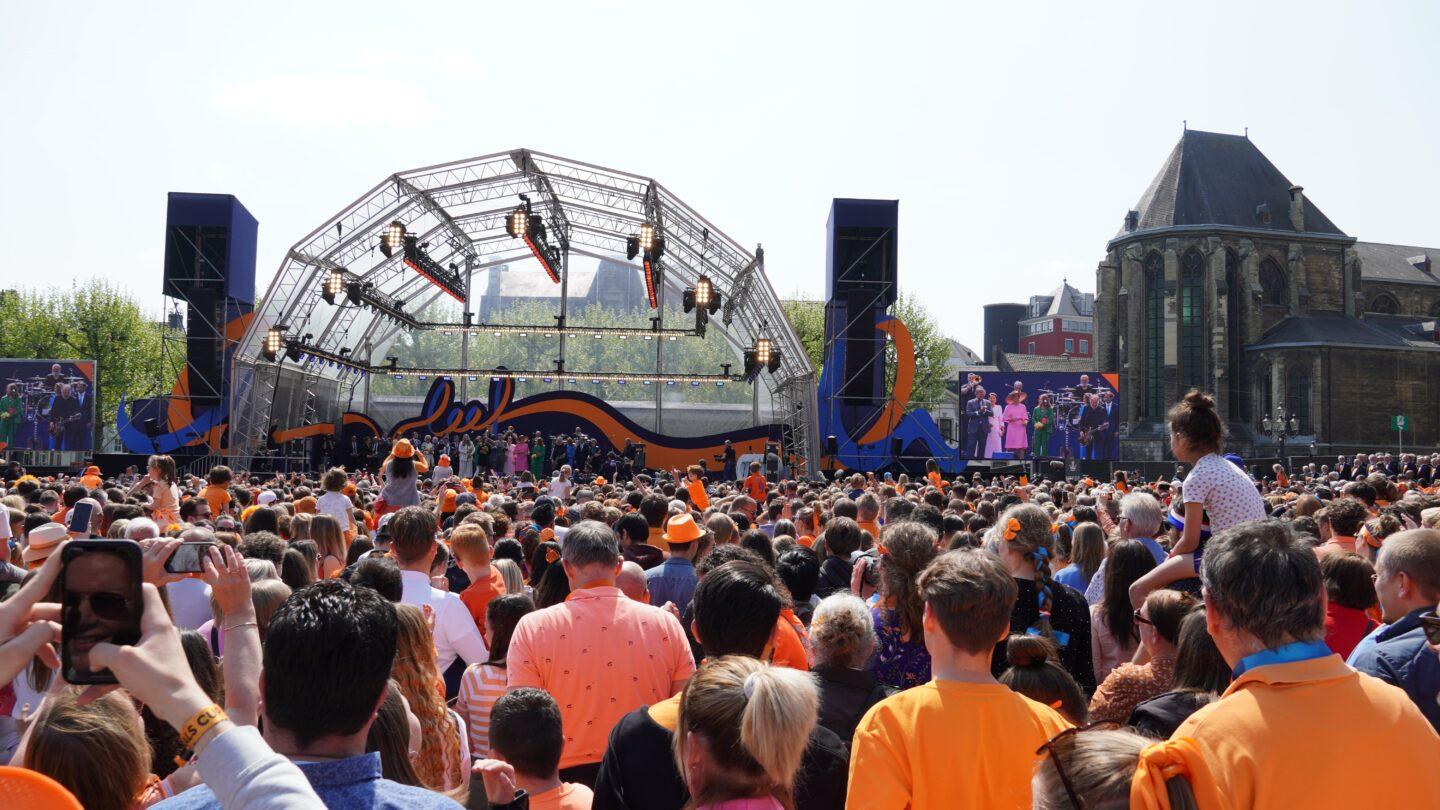 Summer is also the time for festivals. If you're a fan of music, art, and vibrant festivities, July and August are the months for you.
Amsterdam truly comes alive during this time, with a plethora of events and festivals taking place.
Dance music enthusiasts won't want to miss the world-renowned Amsterdam Dance Event in October, while classical music lovers can revel in the sounds of the Robeco SummerNights at the Royal Concertgebouw.
Here you'll find people from all around the world coming to together to enjoy good music. Oh did we mention that Amsterdam is an expat hub?
Well during festival season the dial goes up to 11. Don't forget to pack some colourful clothes.
Finding a nice accommodation can prove difficult in Amsterdam regardless of the season. But this is especially accentuated in the summer months unfortunately.
You should always plan ahead and book early.
Feel free to take a look at our guides on The Airbnb hack as well as How to travel with only $10 a day or even $25 per day!
Cultural Charms: September and October
As summer gives way to autumn, Amsterdam embraces a different kind of beauty.
September and October offer a more relaxed and introspective atmosphere, perfect for delving into the city's rich cultural heritage.
Explore the world-class museums, such as the Rijksmuseum, the Van Gogh Museum, and the Anne Frank House, without the summer crowds. Take your time to immerse yourself in the masterpieces and historical treasures that grace these renowned institutions.
If you're a fan of film, September hosts the annual Netherlands Film Festival, where you can catch screenings of the best Dutch cinema has to offer.
For a taste of Dutch culture, don't miss the national heritage celebration, Open Monumentendag, where historic buildings and sites open their doors to the public for free.
For those of you who want to explore a more exciting side, The Red Light District, offers an interesting glimpse to the other "side" of Amsterdam. Most of what you've heard about it is probably wrong and you can visit The Prostitution museum to get up to speed with its complex and intriguing history.
Your trusty umbrella should be by your side in this season. Rains are becoming more and more common, but warm sunny days are also to be expected.
Biking in the city is as enjoyable as ever. The little cafes and restaurants are cosier, the streets are adorned with autumn leaves and it just exudes that old European romantic vibe.
The good thing about Amsterdam is that it can be enjoyed on any budget. Feel free to also check out our articles on:
Winter Wonder: December to February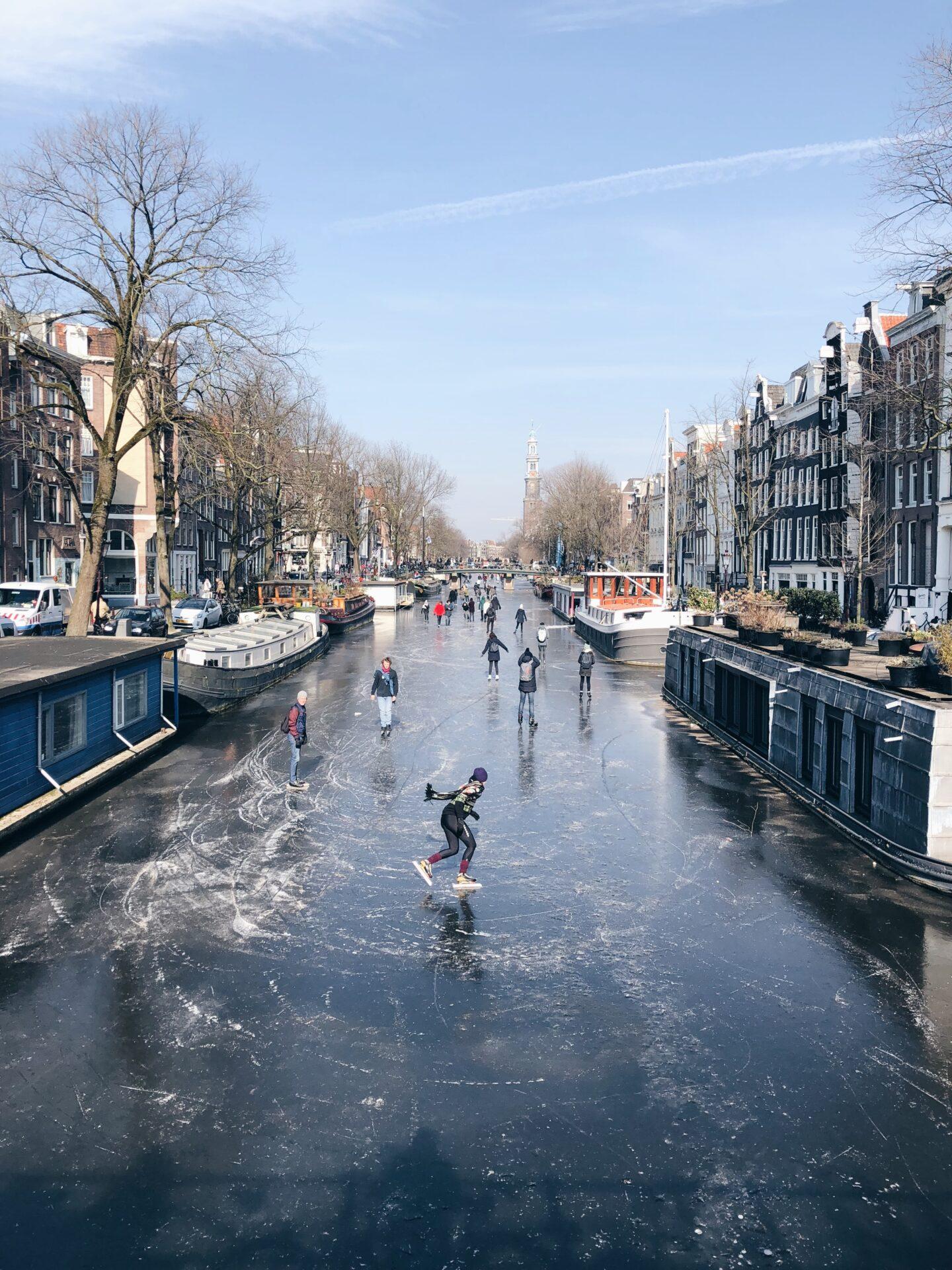 Although Amsterdam may not be the first city that comes to mind for a winter getaway, it holds its own unique charm during the colder months.
December brings a festive ambiance with its sparkling lights, Christmas markets, and ice-skating rinks. Indulge in Dutch treats like stroopwafels and oliebollen as you wander through the enchanting streets adorned with holiday decorations.
The winter holidays are a bit less flashy that you would expect however there is a joly vibe and a smile everywhere you look!
Weather-wise, it never really gets too cold. However the ever present rain will be, well, ever present.
And if you are really lucky you might even seen snow to complement your decision to visit Amsterdam in the winter. Canals also sometimes freeze, and only but the most brave of dutchies will attempt to skate on them.
We don't recommend that however as it is much nicer to watch them with a hot cup of mulled wine in your hand.
Oh and the Dutch are well know for their passion of blowing things up and creating massive fireballs for New Year's Eve. Don't believe me, then take a look at: https://www.youtube.com/watch?v=rGJseovT8ug.
January and February offer a quieter side of Amsterdam, where you can enjoy the city's cultural offerings without the crowds.
Take refuge in cozy cafés, explore the world-class museums, and immerse yourself in the city's rich history. Biking is still pleasant though can get a bit chilly and walking along side the canals and enjoying the beautiful houses is always beautiful regardless of the season.
Conclusion
Amsterdam is a city that truly shines throughout the year, offering a range of experiences and attractions for every season.
Whether you're captivated by the vibrant colors of spring, the sunny vibes of summer, the festive atmosphere of winter, or the cultural delights of autumn, there's a perfect month waiting for you to discover.
So pack your bags, book your ticket, and get ready to uncover the magic of Amsterdam in your ideal time of the year.
For more travel content and guides on anything from hidden spots to amazing restaurants, follow us on Instagram and Tiktok!
See you soon!