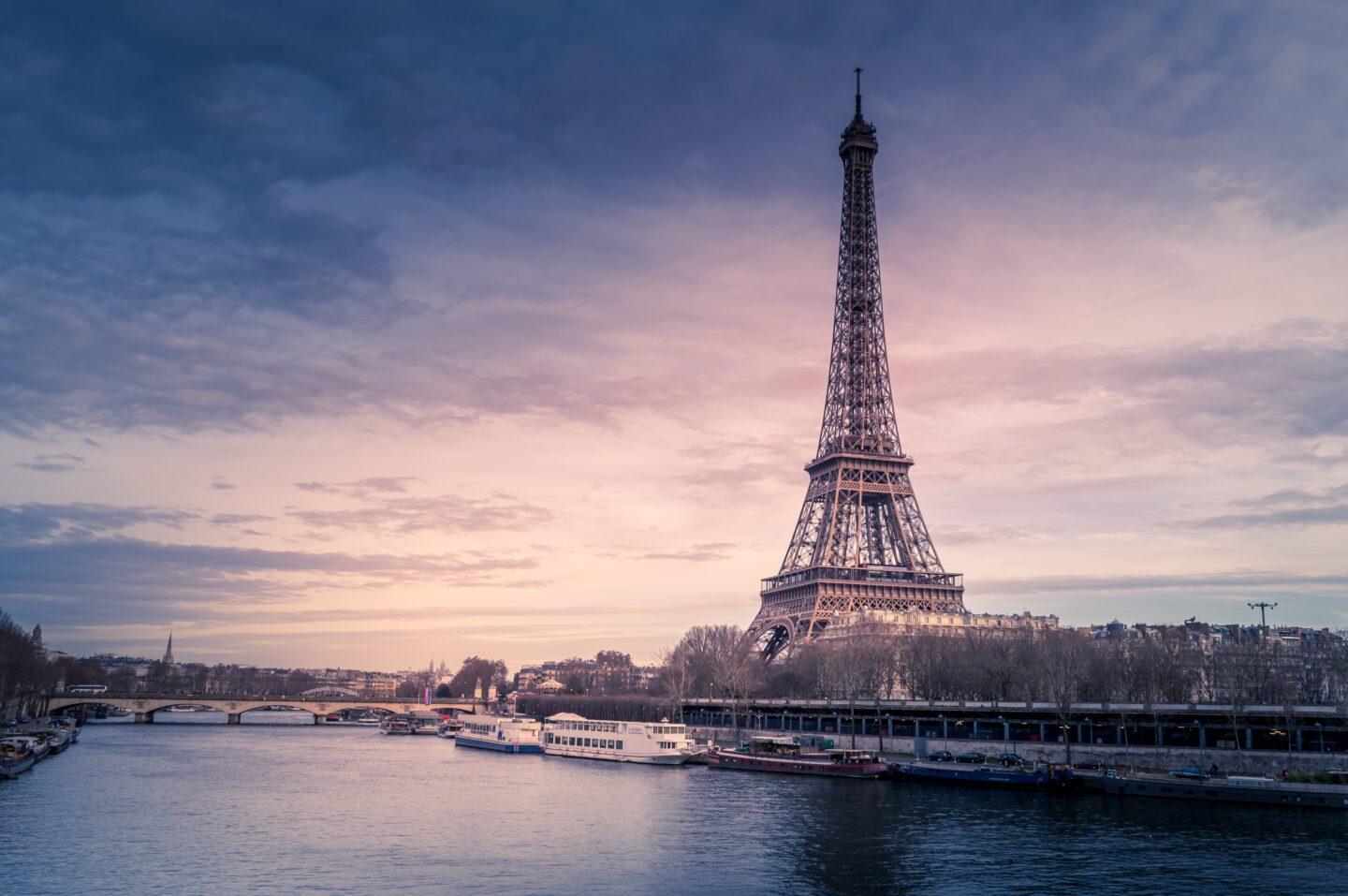 Paris is one of the most beautiful and romantic cities in the world, with its famous landmarks, rich history, and charming streets.
It's no surprise that millions of tourists visit the City of Light every year, but one question that many travelers ask is, "What is the best month to go to Paris?"
As a seasoned traveller who has been fortunate enough to visit Paris multiple times, I can tell you that it truly is a city that has something to offer for everyone.
Whether you're a history buff, a foodie, an art lover, or simply someone who enjoys strolling along cobblestone streets and people-watching at sidewalk cafes, Paris is the perfect destination.
So, what is the best month to go to Paris? Well, that really depends on what you want to experience during your trip.
Let me break it down for you:
If you've never been to Paris and travelling there for the first time, then start by checking out our guides on Paris in 48 Hours: The Ultimate Itinerary and A Week in Paris: The dos, dont's and musts!.
However if it's not your first time but you are still learning about the city then go ahead and take a look at What is the best area to live in Paris? A guide to the Arrondissements and Moving to Paris? This is how much it really costs.
Spring is in the air
First things first when considering planning a trip to Paris is the weather.
Paris has a mild climate with four distinct seasons, and each season has its own unique charm. Spring (March to May) is a popular time to visit Paris because of the blooming flowers and mild temperatures.
The average temperature in spring is around 13-15°C (55-59°F). This is perfect for strolling around the city without getting too hot or cold. The cherry blossoms are in full bloom, and the parks and gardens are bursting with vibrant colors.
Plus, with the crowds still relatively small, you'll have more space to explore the city's famous landmarks and museums without feeling too overwhelmed.
The only downside to visiting Paris in the spring is that it's also the beginning of the tourist season. Prices may be higher, and crowds may be larger.
Travelling to Paris on a budget is totally achievable is done the right way. For more on travelling on a budget make sure to check Budget Friendly Travel: 5 Ways to Explore on $25 a Day.
Having said that, expect a bit of rain in spring. But rain means even more reasons for you to check out the cozy cafes and restaurants. Carry an umbrella and pack some thicker as well as lighter clothes. It's usually chilly in the morning and evenings but gets quite warm in the mid day.
Hot like summer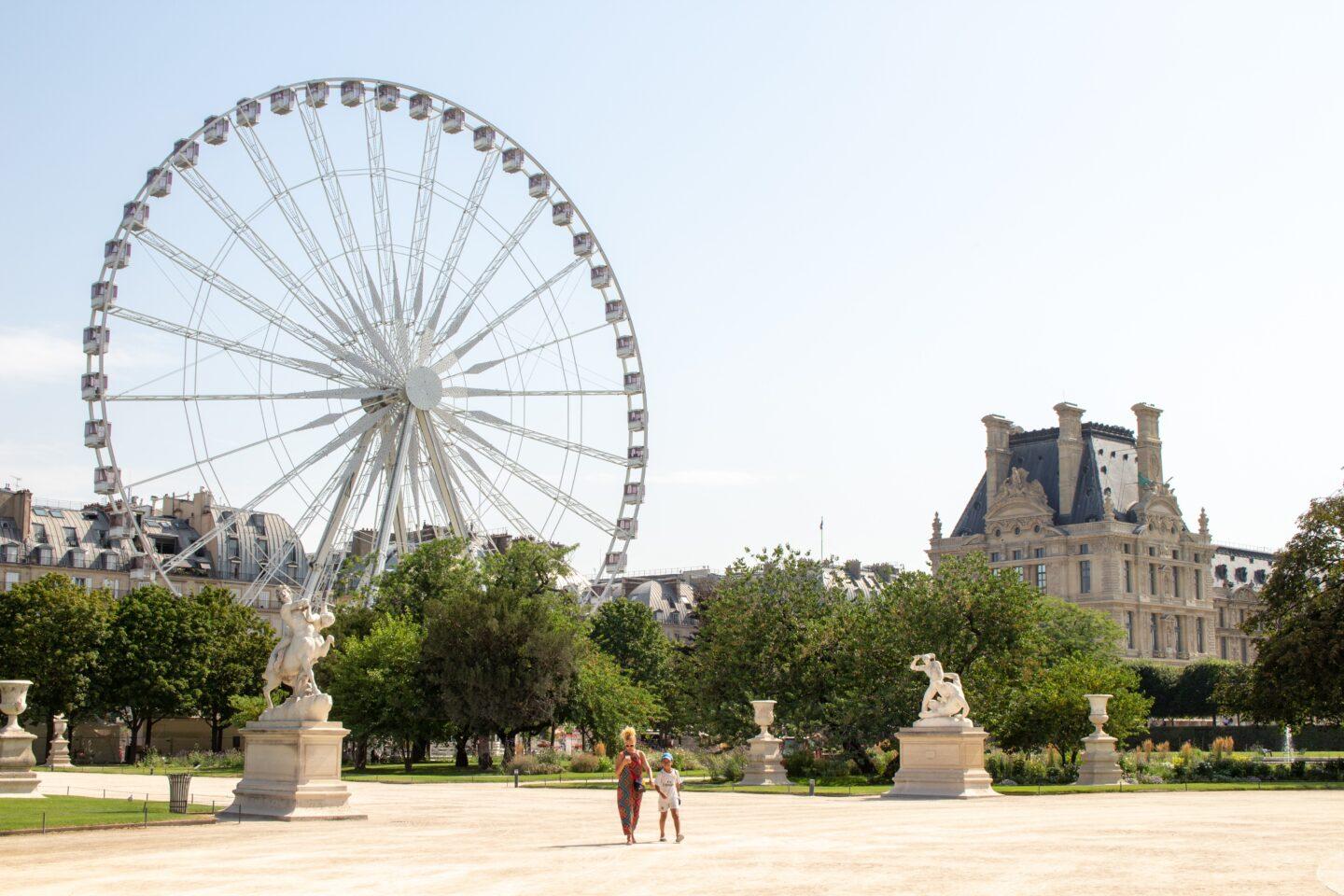 Summer (June to August) is the busiest and most expensive time to visit Paris.
It's also the warmest and sunniest. The average temperature in summer is around 20-25°C (68-77°F). So it's perfect for outdoor activities like picnics in the park or dining al fresco.
Summer is also the time when Parisians go on vacation. Because of this some shops and restaurants may be closed, but there are still plenty of things to see and do.
In summer the city has quite an interesting feel about it. French people from all around the country visit Paris, along side the international tourists of course. This make it feel like quite a resort town.
Well at least in the center area. If however you decide to go off the beaten track, and explore the city a bit more then you'll see that the parisian vibe we know and love is still there. In the summer there are plenty of outdoor festivals, concerts, and events to keep you entertained.
And of course, the long summer evenings mean that you can enjoy a late dinner at a sidewalk cafe or take a romantic stroll along the Seine River without feeling too chilly.
Beautiful like autumn
Autumn (September to November) is my personal favorite time to visit Paris.
This is due to the beautiful fall foliage and mild temperatures. The average temperature in fall is around 10-15°C (50-59°F), which is perfect for exploring the city on foot.
Fall is also a great time to visit Paris if you're on a budget because prices are lower, and there are fewer tourists. However, the downside of visiting Paris in the fall is that it can be rainy.
So make sure to pack an umbrella and raincoat. The city's parks and gardens transform into a stunning array of reds, oranges, and yellows, and there are plenty of fall festivals and events to enjoy. Think of Paris Fashion Week and the Nuit Blanche art festival.
A winter tale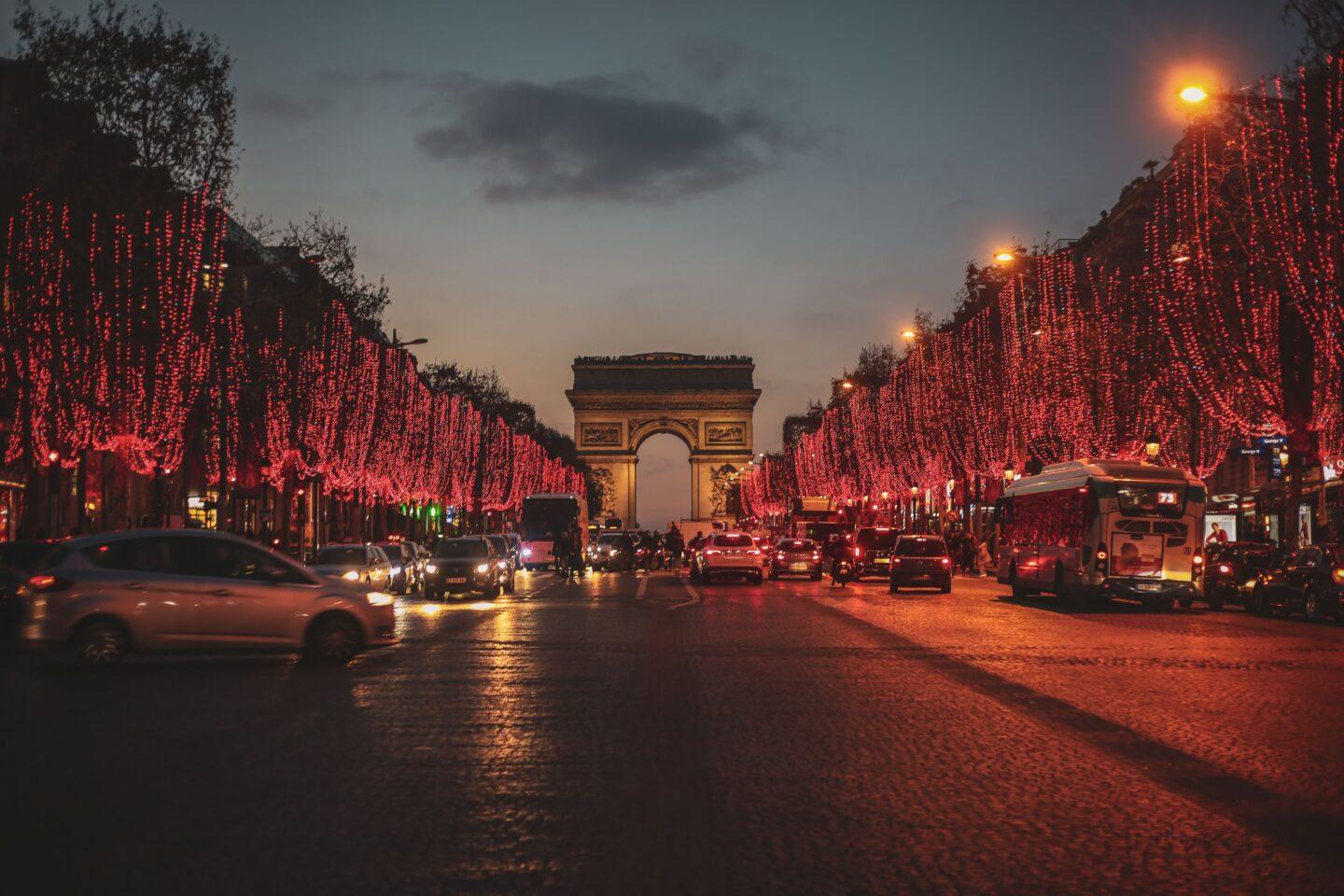 Winter (December to February) is the coldest and least crowded time to visit Paris, but it's also the most magical.
The average temperature in winter is around 5-8°C (41-46°F), which means that you'll need to bundle up to stay warm.
However, Paris is absolutely enchanting during the winter months, with its festive holiday decorations and Christmas markets. The Christmas markets are in full swing. Selling everything from mulled wine to handmade gifts, the city is decorated with twinkling lights and festive decorations.
And of course, there's no better place to ring in the New Year than under the shadow of the Eiffel Tower.
If you're a fan of ice skating, then you'll love the ice rink that's set up every year in front of the Hôtel de Ville.
Festivals, fashion and fun
Aside from the weather, another factor to consider when deciding the best month to go to Paris is the events and festivals that are happening during your visit.
Paris is a city that loves to celebrate and have fun. And there's always something happening no matter what time of year you visit.
Here are some of my favorite events and festivals in Paris:
1. Paris Fashion Week (February/March and September/October)
Paris Fashion Week is one of the most prestigious events in the fashion world, attracting designers, models, fashion editors, and style influencers from all over the globe. It's held twice a year, in February and September, and is a must-attend event for anyone who loves fashion.
During Fashion Week, the city is buzzing with excitement as the biggest names in fashion gather to present their latest collections.
From Chanel to Dior, Givenchy to Saint Laurent, the runways are filled with stunning designs that set the tone for the upcoming season's trends.
2. Fête de la Musique (June 21st)
Fête de la Musique is a beloved annual event in Paris, attracting both locals and visitors from around the world. The festival began in 1982 as an initiative by the French Ministry of Culture, and has since grown into a massive celebration of music, culture, and community.
On the day of the summer solstice, which is typically June 21st, musicians of all genres and skill levels take to the streets, parks, and public spaces of the city to perform for free. The festival is open to all, and there are no tickets or admission fees required.
This creates a welcoming and inclusive atmosphere, where people from all walks of life can come together to enjoy live music
3. Bastille Day (July 14th)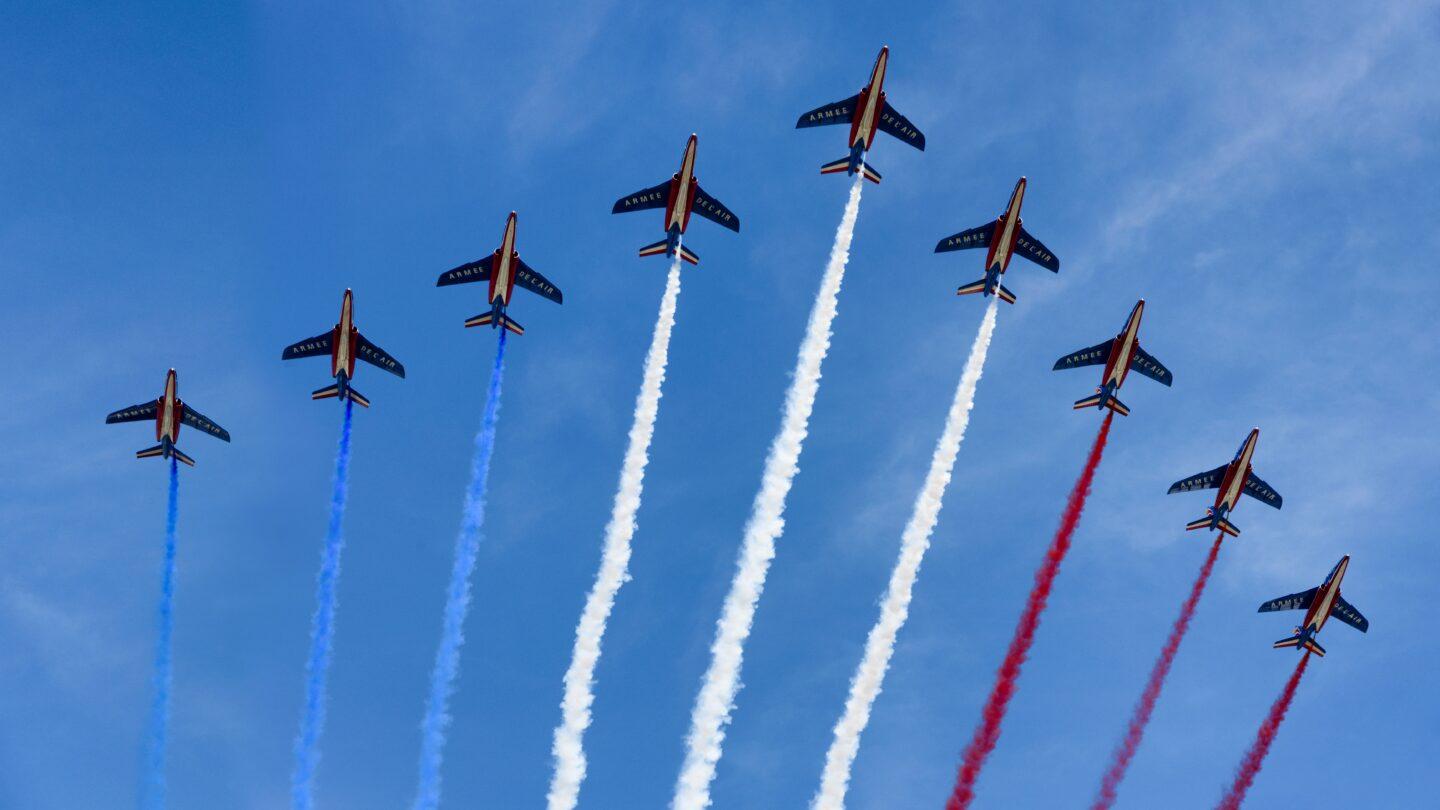 Bastille Day is the French national holiday. It's celebrated with a grand military parade on the Champs-Élysées, followed by fireworks at the Eiffel Tower. It's a great day to experience French patriotism and see some impressive military displays.
4. Nuit Blanche (first Saturday in October)
Nuit Blanche, or White Night, is an all-night art festival that takes place in Paris and other cities around the world. Museums, galleries, and other cultural venues stay open all night, and there are outdoor art installations and performances throughout the city.
5. Christmas Markets (December)
Christmas markets are set up all over Paris in the weeks leading up to Christmas, selling everything from handcrafted gifts to hot wine and gingerbread cookies. It's the perfect time to indulge in some festive cheer and holiday shopping.
In addition to these events and festivals, there are also many museums, art galleries, and other cultural attractions in Paris that are worth visiting.
The Louvre is perhaps the most famous museum in Paris, with its impressive collection of art and artefacts spanning thousands of years. Other must-visit museums include the Musée d'Orsay, the Centre Pompidou, and the Rodin Museum.
Conclusion
In conclusion, there's no one "best" month to go to Paris, as each season and time of year has its own unique charm and attractions.
It really depends on your personal preferences and what you want to experience during your trip. Whether you're a fan of spring flowers, summer sunshine, fall foliage, or winter wonderlands, Paris has something for everyone.
And with its rich history, culture, and cuisine, it's no wonder that Paris remains one of the most beloved and enchanting cities in the world. So what are you waiting for? Book your trip to Paris today, and get ready to fall in love with the City of Light.
For more travel content and guides on anything from hidden spots to amazing restaurants, follow us on Instagram and Tiktok!
Bon voyage!